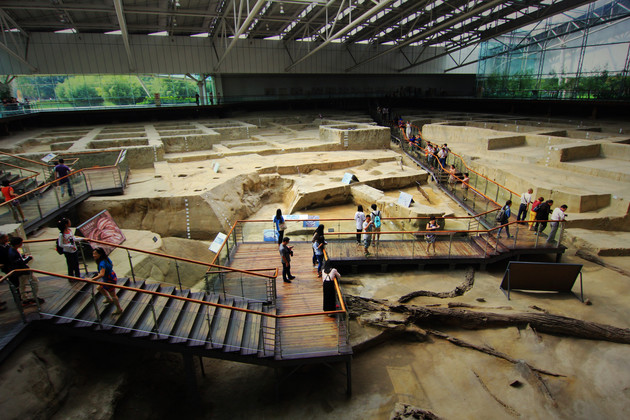 Photo/Shetuwang
Archaeologists in northwest China's Shaanxi Province have unearthed a tomb cluster dating back some 2,200 years to the early Western Han Dynasty (202 BC-AD 8) in the provincial capital of Xi'an, home to the world renowned terracotta warriors.
A total of 27 tombs were excavated near Lijia Village, Baqiao District, in the eastern part of Xi'an, according to the city's institute of cultural relics protection and archaeology.
More than 500 buried items were unearthed, as well as over 2,000 jade pieces that were used to form garments made entirely of jade, said Zhu Lianhua, leader of the excavation project from the institute.
Among the tombs, the largest was one with a sloping passage, where more than 190 items and over 2,200 jade pieces were excavated. Bronze chariot and horse sets, earthenware, terracotta dancing maids, chiming bells, and gold and bone accessories were among the unearthed items, he said.
The size of the tomb and the unearthed items indicate that the rank of the tomb owner was no lower than a marquis, said Zhu.
The tomb and another three large ones in the cluster were believed to be subordinate tombs of a mausoleum, where the emperor Liu Heng, his mother and his wife were buried. Excavation of the tombs is significant for the study on the structure of the mausoleum area and the burial system of subordinate tombs, said Zhu. 
Email: gaohan@nbd.com.cn
Editor: Gao Han