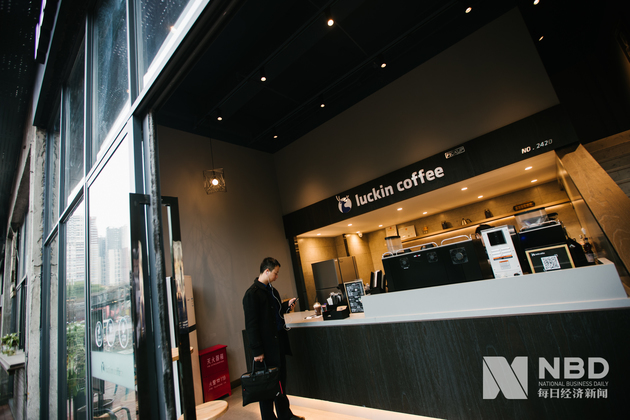 Photo/Zhang Jian (NBD)
Apr. 18 (NBD) -- Luckin Coffee, a self-declared challenger to well-established coffee chain Starbucks, has raised 150 million U.S. dollars in its Series B+ funding round, which valued the company at 2.9 billion U.S. dollars, the company announced Thursday.
A private equity fund managed by U.S. asset manager BlackRock led the Chinese coffee chain upstart's latest funding round with an investment of 125 million U.S. dollars. Interestingly, BlackRock is the second largest shareholder of Starbucks, holding a 6.58 percent stake in the U.S. coffee giant.
NBD tried to approach Luckin for more details about the financing, but the company declined to comment.
In the eyes of industry insiders, the endorsement of the U.S. investing powerhouses will bring Luckin a step closer to the U.S. capital market.
Previously, Reuters reported Luckin has tapped three banks including Credit Suisse to work on a U.S. IPO that could raise around 300 million U.S. dollars. The IPO will likely take place in the second quarter of this year at the soonest.
The 150-million-U.S. dollar investment marked the third financing round that Luckin has completed in the past 12 months, following a 200-million-U.S. dollar funding round in November 2018 that had increased the company's valuation to 2.2 billion U.S. dollars.
In a bid to surpass Starbucks, Luckin is aiming to open more than 2,500 new outlets this year, pushing the total number of stores to over 4,500.
To raise money to support its ambition, the firm also mortgaged its movable properties including coffee machines in Beijing, Shanghai, Guangzhou, Shenzhen and Chengdu in April.
The large capital influx, however, didn't change the financial situation of the up-and-coming chain.
Luckin recorded 375 million yuan in revenue and 857 million yuan in net loss in the first nine months of last year, according to the firm's financing plan. The massive loss was caused by the money-burning store expansion and customer subsidy strategy.
As of the end of 2018, the coffee upstart has built 2,073 stores in 22 Chinese cities, including Beijing, Shanghai, Guangzhou, Chengdu and Qingdao.
So far Starbucks has owned over 3,800 outlets across China. The coffee chain powerhouse expects to increase the figure to 6,000 and expand its presence from 140 to 230 cities in the country by 2022. This means over 600 Starbucks shops will be opened annually in the next few years and the chain will expand its footprint to more third- and fourth-tier cities.
Email: lansuying@nbd.com.cn
Editor: Lan Suying