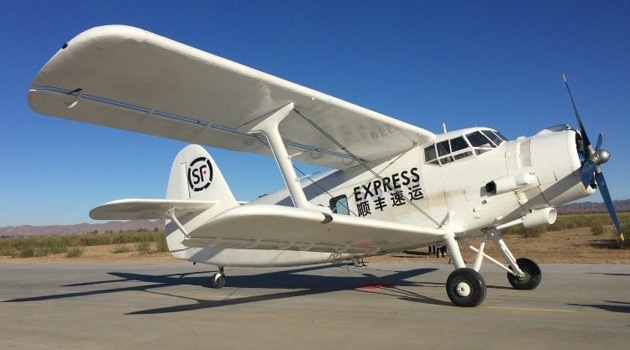 Photo/Zhao Wenqi
Oct. 17 (NBD) -- Chinese delivery service provider S.F. Holding Co Ltd (SF, 002352.SZ), along with China Aerospace Times Electronics Co Ltd, conducted a demonstration flight with the unmanned delivery aircraft Feihong-98 on Tuesday.
According to SF, the Feihong-98, developed based on the Shijiazhuang Y-5B, has a maximum payload of 1.5 tons and maximum takeoff weight of 5.25 tons. It boasts a range of up to 1,200km with cruising speed reaching 180km/h.
The cost for the Feihong-98 is as much as two thirds of that for a manned aircraft. With large space and loading capacity and short distance needed from takeoff to landing, the aircraft can fly to those areas without airports, according to Yang Jun, general manager of an unmanned aircraft subsidiary of SF.
SF expects to achieve commercial use of the Feihong-98 within 3 to 5 years after a series of flight tests.
Yang also mentioned that the aircraft will satisfy SF's needs to offer delivery service in the four-, five- and six-tier cities in China. Besides, the Feihong-98 has applications in other fields such as emergency supplies delivery and cold chain delivery of fresh goods, said Yang.
It is noted that China's unmanned aerial vehicle (UAV) sector saw fierce competitions among logistics companies this year.
Last Wednesday, ZTO Express' cargo drone completed its first flight for delivery in Lintong District of Xi'an in northwest China, which indicates the drones started being applied in order delivery in this area.
SF's major rival JD.com announced in March 2018 the opening of its first drone delivery station in South China's Hainan Province and the giant's first self-developed heavy-lift drone rolled off the production line three months later in Xi'an.
In addition, China Postal Express & Logistics said its amphibious UAV has passed the flight test in May this year.
The rapid adoption of UAVs in the logistics business is mainly driven by the loosened government policies, Dr. Fang Xi, assistant dean at The Development and Research Center of the State Post Bureau, told NBD.
A UAV industrial chain that includes vehicles of all sizes is also being formed, Fang said.
However, Fang pointed out as the development of such UAVs is at the initial stage, enterprises are still exploring an effective profit model, and the economic interests that the UAV development will bring to the communities, suburbs and impoverished areas are not clear yet.
Email: zhanglingxiao@nbd.com.cn
Editor: Zhang Lingxiao