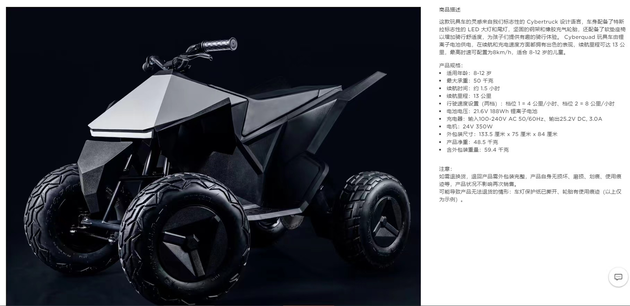 Photo/website of Tesla China
On the morning of July 14 at 10 o'clock, Tesla China officially launched the Cyberquad toy car on its website, with a price of 11,990 yuan.
It is reported that the toy car is equipped with Tesla's iconic LED headlights and taillights. In addition, the car is suitable for children aged 8-12, with a maximum load of 50 kilograms. It is equipped with a 21.6V Flight Speed® lithium-ion battery, which has excellent performance in terms of battery life and charging rate, and can travel 13 kilometers when fully charged.
Specifically, the driving speed of the Cyberquad can be divided into two gears, with the first gear being 4 kilometers per hour and the second gear being 8 kilometers per hour. The battery life is about 1.5 hours, and the maximum load is 50 kilograms.
Some netizens commented: "Tesla's peripherals are well done", "This car looks very high-tech and cool, but it's expensive", "I don't understand the world of rich people", "This price seems to be lower than expected", "I added it to the shopping cart, but I can't check out", "I can't even afford a toy car", "I can afford this price, but can I drive it?", "The key is that there is no place to put it after buying it."
As Tesla's first children's toy car launched on its official website in China, the Cyberquad has attracted widespread attention and is in high demand.
According to media reports, at 11 am on July 14th, when the journalist tried to "add to cart" the Cyberquad toy car on Tesla's official store, it prompted "an error occurred while processing your request".
The official response was "sorry, there are currently many visitors on the official website, and the network is lagging. We suggest you refresh the page or try using a private browsing window."
A day before the official launch, second-hand platforms had already started offering "scalping services" for the Cyberquad Tesla toy car. On July 14, various "Cyberquad toy cars" with inflated prices began to appear, ranging from 15,900 yuan to 59,900 yuan, creating a "scalping industry chain".
However, it is worth noting that last year in the US market, the Tesla Cybersquad children's electric car was recalled by its manufacturer RadioFlyer because it did not comply with safety regulations.
Editor: Billy