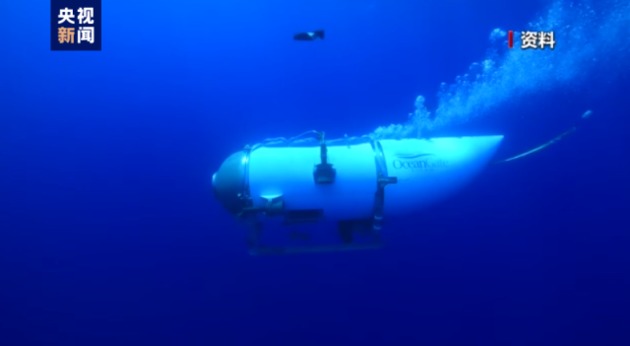 Photo/CCTV
The "Titan" submarine that went missing in the North Atlantic has finally been found.
On June 22nd, floating debris from the "Titan" was found about 500 meters from the bow of the Titanic. Four major fragments were also found, including the front dome of the pressure chamber.
An internal explosion
The US Navy said that these fragments "are consistent with its catastrophic explosion." An internal implosion usually refers to a submersible being rapidly crushed by strong water pressure. Technicians have used AI to simulate the moment when a tourist submarine imploded: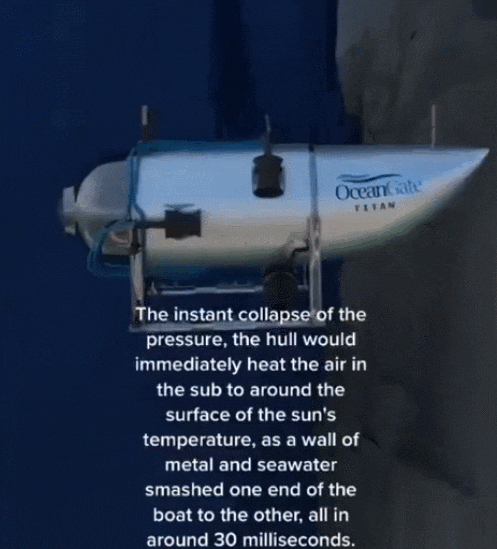 Paul Hacking, a salvage expert with the US Navy, said at a news conference that when this submersible was found, it was already in pieces and that search and rescue teams "will do their best to fully restore what happened when it imploded underwater." Carl Hartsfield of Woods Hole Oceanographic Institution said that the wreckage of this submersible was found in a flat seabed area where there was no wreckage from the Titanic.
US Coast Guard official John Meege said it was too early to say exactly when Titan went down and that more clues would be searched for at the scene to investigate what caused this incident.
multiple concerns raised over safety of vessel
According to CNN, at least two former employees expressed concerns about the safety of OceanGate's hull material thickness and testing procedures several years ago. In 2018, a lawsuit record showed that OceanGate's former maritime operations director Lochridge pointed out that "Titan" had serious safety hazards during its development process in 2015. The company's testing and certification were insufficient and would "cause passengers to face extreme danger in experimental submarines."
In addition, according to CBS, the ship had lost contact with surface crew for nearly five hours during a diving period. Due to a series of mechanical problems and adverse weather conditions, OceanGate has canceled or delayed voyages several times in recent years. Due to voyage cancellations, the company has also been sued twice for refunds. The complaint also stated that OceanGate exaggerated its ship's ability to reach the Titanic wreckage. However, OceanGate has not responded to these allegations in court so far.
According to design specifications, "Titanic" can dive to a depth of at least 4000 meters, but the company refused to order front observation windows with a pressure-bearing capacity corresponding to the depth. The certified pressure-bearing capacity of the front observation window of "Titanic" is only 1300 meters deep.
After the accident of the "Titan" submarine, according to Agence France-Presse, on June 22nd, James Cameron, the director of the movie "Titanic," said in an interview: "I am shocked by its similarity to the Titanic disaster. At that time, the captain was repeatedly warned that there were icebergs ahead of the ship, but he still rushed into the ice zone at full speed." He emphasized that "many people" expressed concern about the Ocean Gate Exploration Company because "what they are doing is too experimental and needs to be verified."
Who are they?
It is reported that Stockton Rush, CEO of Ocean Gate, was also on board the missing "Titan". Ocean Gate said that "Titan" was driven by 61-year-old Rush. It is worth noting that Rush is a descendant of Benjamin Rush and Richard Stockton, two signatories of the Declaration of Independence. Rush's wife Wendy is also a descendant of Isidor and Ida Strauss, co-founders of Macy's who died in the Titanic disaster in 1912.
The other four are so-called mission specialists (Mission Specialist), namely British explorer Hamish Harding, businessman Shahzada Dawood with dual Pakistani and British nationality and his son Suleiman, French explorer Paul-Henry Nalorole. Each person paid a fee of $250,000 (about RMB 1.8 million).
48-year-old Dawood is a board member of the non-profit educational organization. His 19-year-old son Suleman Dawood is the youngest victim.
73-year-old Nalorole was once the underwater research director of EM Group and Titanic Inc. According to EM Group's website, Nalorole has successfully dived to the Titanic wreck site up to 37 times in 35 years and "supervised the restoration of 5,000 cultural relics." The company said that Nalorole "is widely regarded as a major authority on the Titanic wreck site."
Nalorole is also one of Cameron's friends. Cameron said that their friendship has lasted for 25 years. Nalorole's death in such a tragic way is almost unacceptable.
Editor: Alexander