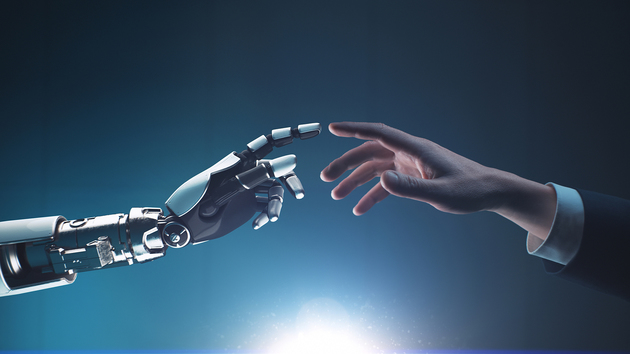 Photo/VCG41N1356593648
On June 1st, a domestic private equity firm called Zhiyuzhishan Funds announced that it plans to launch a private equity fund managed independently by a machine robot based on artificial intelligence (AI).  
For a time, issues such as what kind of work AI fund managers will take on and their future performance have become a focus of attention in the investment circle. In January of this year, London-based Market Makers conducted a survey of the top 50 hedge fund managers, and found that 90% of hedge fund traders plan to use AI to manage their investment portfolios this year.
In 2015, scientists selected 826 funds with clear types and performance data from nearly 60,000 funds in the North American market for research. Some of these funds were managed by human managers, some by AI, and some by humans and AI together. The best performing fund among them was the AI-managed fund, with an average monthly return rate of about 0.76%, 51 basis points higher than 0.25% of human-managed funds.
In 2017, the world's first AI-powered stock-picking fund, AI-Powered Equity ETF (AIEQ), was launched. It worked day and night to analyze relevant information of thousands of listed stocks in the United States, including company announcements, quarterly reports, news, and articles on social networking sites, and selected a portfolio of 70 stocks based on economic trends and future trends. AIEQ outperformed the two major stock indices in the United States in just three trading days after its launch. According to the AIEQ official website, the net asset value of the fund has an annualized growth rate of 5.31% from its inception to the market close of June 1, 2023.
Today, with the emergence of ChatGPT, generative AI further empowers many fund managers around the world.
A study published by the University of Florida's School of Finance in May of this year showed that incorporating ChatGPT into investment models can predict stock market trends and achieve a staggering investment return of 500%, easily surpassing traditional stock market sentiment analysis models used by hedge funds, making it the "Buffett" in the AI field.
In addition, in March of this year, the personal finance comparison website finder.com created a conceptual fund managed by AI. Finder.com asked ChatGPT to create a stock investment portfolio based on a series of investment principles from leading funds. 
At the beginning, ChatGPT warned twice that "specific investment advice could not be provided," but the questioner ultimately "circumvented" this warning, and ChatGPT selected 38 stocks. The fund composed of the 38 stocks selected by ChatGPT rose by 4.9% from March 6th to April 28th. And the best performer was Meta, which rose nearly 30%, Microsoft rose 20%, and Intel rose nearly 18%. The performance of this fund even surpassed the average performance of the top 10 most popular funds in the UK during the same period, with an average decline of 0.8%.
According to Forbes, AI investment portfolios can indeed perform better than investment portfolios managed by professional fund managers, because professional fund managers can only try to beat the market using currently available information, while AI can use big data and the internet to build highly complex models and accurately predict future market trends.
"Generative AI will completely change the asset management industry and also bring better long-term returns to customers," said Vanguard Group CEO Mortimer Buckley.
Editor: Bell