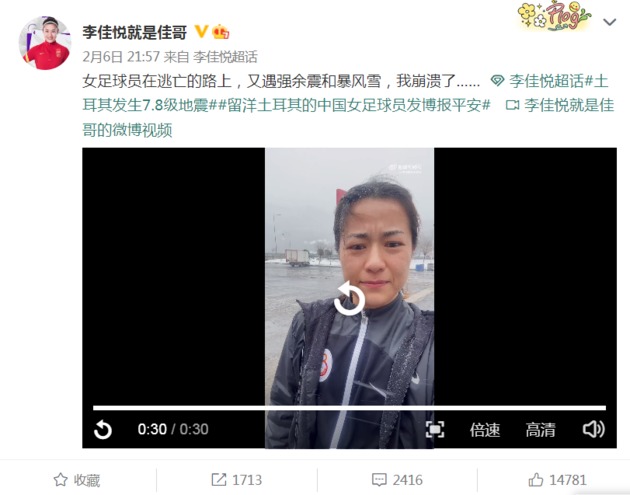 Photo/Weibo post of Li Jiayue
Feb.7 (NBD) -- On February 6th, a strong earthquake hit Turkey, leaving many athletes missing.
According to Turkish news, 14 players of a women's volleyball team were buried under the rubble, and the head of another sports club was crying for help on social media.
Chinese footballer Li JiaYue, who plays for the Turkish Galatasaray Women's Football team, posted a video on Weibo to report her safety on the afternoon of February 6th.
In the video, Li Jiayue said: " Right now, Turkey was hit by a 7.8 magnitude earthquake. Adana, where were are, was hit hard by the earthquake as it is very close to the epicenter. At around 4:00 am (local time), I was awakened by the shaking of the house, which was about to collapse. Then I run out of the house with the whole team. Many of my teammates were scared to tears. Although I didn't cry, I felt death was so close to me for the first time."
Despite this, Li JiaYue remained optimistic. She said: "Of course, Bro Jia (Li Jiayue's nickname) is a strong woman. Li reassured her fans on Weibo that she is safe right now."
Many fans left messages under this Weibo post, wishing Li JiaYue to be safe in a foreign land and take care of herself.
In another video post, Li said she encountered huge snow and strong winds on her way to Ankara, but Ankara is also hit by a 6.3 magnitude aftershock. Li encourage herself and hoped that everyone was well.  
Li Jiayue, 33 years old, joined the Turkish Galatasaray Women's Football team in early January 2022. As a defender, she has played 11 times for the famous Turkish team and contributed one assist. It is worth mentioning that on February 5th, Beijing time, Galatasaray beat Adana with a score of 3-0.
Editor: Tan Yuhan