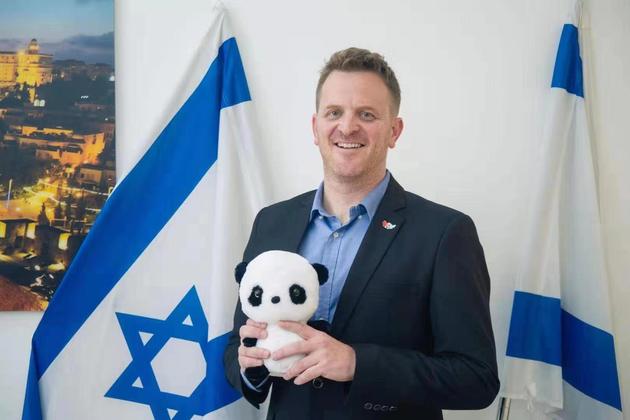 Ran Peleg, Israel's consul general to Chengdu (Photo/Peleg's official Weibo account)
Oct. 29 (NBD) -- Just as the old saying goes that you'd better not come to Chengdu when you're young because the cozy life there might wear down your great ambitions.
The city again stepped into the limelight recently as the host city of the inaugural Monocle Cities Series Conference, which is slated for November 4. 
"This is a modern city with ubiquitous traditional culture to feel. Unlike other metropolis, people are leading a slow-paced jovial life here. I've been to many Chinese cities, but Chengdu is my favorite. Food and culture here always appeal to me," said Ran Peleg, the Israel consul general to Chengdu, when receiving exclusive interview of NBD. Peleg will be present at the Monocle event as a distinguished guest. 
Chengdu is becoming a world-known livable city with more than 3,000 book stores, 2,000 bars and near 10,000 tea houses which function as active cells of the city, endowing people living here a sanguine laid-back lifestyle. On top of that, the capital of Sichuan province claimed the top spot in the Best-Performing Cities China Index 2019 released by independent economic think tank The Milken Institute just a few days ago. 
Traditional elements in harmony with modernization 
Ran Peleg has a special connection with Chengdu. In 2006, he graduated from a university in Israel and hit on the road as a backpacker just like the protagonist in Jack Kerouac's novel. "I enjoy being on the road where magnificent rivers and ranges make me feel free," he said.
Back then, he used to ride a motorbike around the city where rivers meander and mountains stretch. In Chengdu, he had some carefree days with his girlfriend, strolling in streets, participating in gourmet festivals, visiting places of interest. The most unforgettable moment is that he proposed marriage to his girlfriend at a small Sichuan restaurant. 
Last year, Ran Peleg became new consul general of Israel to Chengdu. "I felt so familiar to everything when I set foot on the land again. On leaving the airport, I rushed to a Dandan noodles restaurant," he recalled the scene of revisiting the city.
Now, Ran Peleg has settled down in Chengdu with his family. He opened an Weibo account to record his daily moments. As a foodie, he often searches delicious food like a hunter in the street after burdensome work. No delicacies can escape from his radar.
"There are many famous fancy restaurants which gourmets frequent. But I prefer to search some small restaurants hidden in allies where I can truly experience the authentic Sichuan flavor. Myriads of delicacies never fail my expectation," he said, smiling. 
"Besides food, there is much to explore around Chengdu. The picturesque landscapes, cultural diversity, ancient buildings, traditional lifestyle enchant me in a way I never felt before. All traditional elements are well preserved and in harmony with modernization which is barely seen in other mega cities," added he.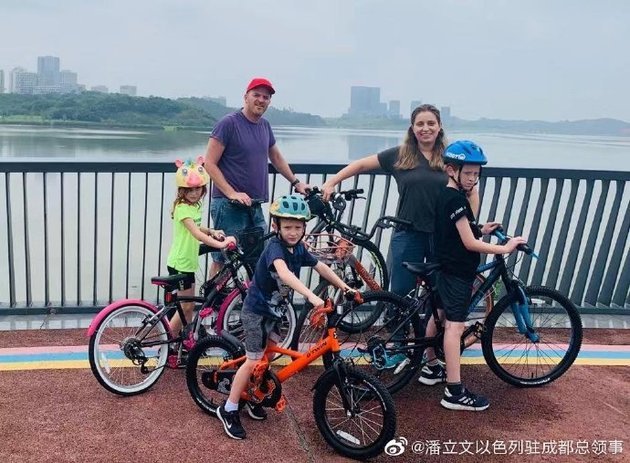 Ran Peleg and his family (Photo/Peleg's official Weibo account)
A city of quality life & growing openness 
Almost every week Ran Peleg and his family go bicycling at Tianfu greenway. "You don't have to go too far to escape from the hustle and bustle of town and feel the breeze in nature. I know the municipal government paid high attention to urban greenway. Many parks are well designed with accessible and thoughtful facilities like Jincheng Lake and Guixi Eco-park," he remarked, speaking highly of the quality of living in Chengdu.
Just as he mentioned, in recent years, Chengdu has been cementing its profile as a Park City. Take Tianfu Greenway for example, in the future the greenway will be extended to over ten thousand kilometers. 
Besides livable environment, in the first half year, 237 famous brands have been introduced to open their first shop in Chengdu, mirroring the constantly-improving life quality of the city.
In the meanwhile, Chengdu has stepped into a new era of opening-up. Lots of global companies and organizations have built up strong connections here. By this September, 296 companies in the Fortune Global 500 list and near 20 foreign consulates have set up branches in Chengdu. Ran Peleg said, "There are many more foreigners living in mature international communities in Chengdu." 
"I also noticed that the city's connectivity was getting better. More international airlines facilitate foreigners to reach, to observe and touch this charming city, immediately increasing Chengdu's global reputation and presence. Such as the direct flight between Chengdu and Tel Aviv, it has greatly enhanced bilateral communication since its virgin flight in last August," he told NBD.
So far, Chengdu has run more than 120 international flights, making itself a high ground of external exchange in western China.
Email: lansuying@nbd.com.cn
Editor: Lan Suying