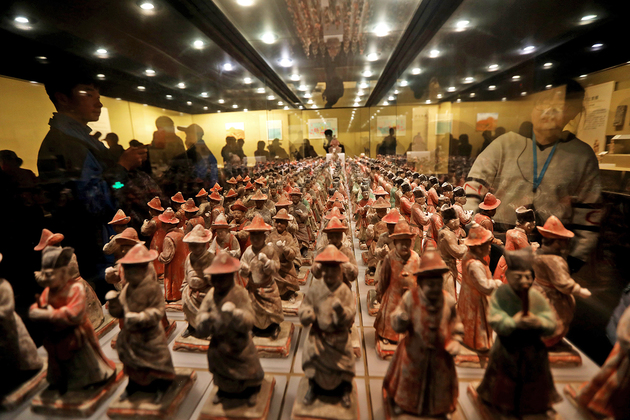 Shaanxi History Museum [File photo/Zhang Jian (NBD)]
The number of visitors to museums across China increased by 16% year on year to reach 1.13 billion in 2018, said Liu Yuzhu, chief of the National Cultural Heritage Administration (NCHA), on Saturday.
The number of museums increased by 218 year on year to 5,354 in 2018 and they held about 26,000 exhibitions and 260,000 cultural events in 2018, Liu said at an event in Changsha city, capital of central China's Hunan Province, marking the International Museum Day that fell on Saturday.
"With their number growing and their services improving, museums have become a new destination for people to spend festivals and holidays," he said.
Currently, there is one museum for every 260,000 people in China. In some places such as Beijing, Shaanxi and Gansu Provinces, there is one for every 120,000 to 130,000 people.
Despite the new enthusiasm expressed by the public, experts argued that visits to museums remain at a relatively superficial level.
"Many museums simply put up treasure shows," said Gong Liang, curator of the Nanjing Museum in east China's Jiangsu Province. "Exhibitions should not aim to display the most valuable exhibits but tell good stories about the relationships among exhibits and reveal the life in the past."
Xiao Zhengyu, a volunteer working for the Nanjing Museum, told Xinhua that many visitors would come up to him and ask what the most worthwhile thing to see in the museum's collections was.
"I hope people will regard museums not only as sightseeing sites on their to-do list but also as a journey through history," Xiao said.
Museums themselves have explored new ways to connect with audiences, such as museum curators appearing on TV shows and launching digital projects.
Liu Yuzhu proposed that Chinese museums should try to market themselves as a new space for get-togethers with family and friends so that going to a museum would be part of a "fashionable lifestyle."  
Email: lansuying@nbd.com.cn
Editor: Lan Suying