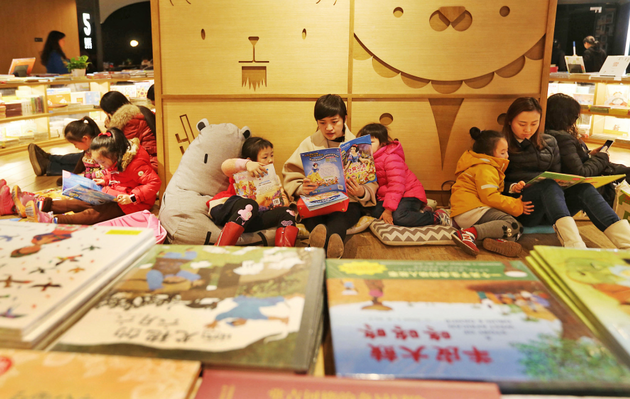 Photo/VCG
The audience of reading promoter Huang Xiaofeng grew from just two children to more than 2,000 in 11 years. "It was a tough start," Huang said.
In 2008, Huang found herself obsessed with picture books while telling stories to her children. "They are creative, beautiful and can help kids form good reading habits," she said.
To get more Chinese children interested in books, Huang, a bookstore adviser, set up a reading corner in 2008 in Wuhan, capital of central China's Hubei province, reading carefully selected books.
"I anticipated a lot of kids but was met with a harsh reality. For two years, there were only two children," she said. "It was tough to continue, but I believed I was doing the right thing and that the best was yet to come."
The mother's perseverance finally paid off after more than a decade. On April 14, Huang organized an event and invited three globally renowned foreign authors to talk about their books to more than 2,000 children and parents in one of the biggest theaters in Wuhan. From a community reading corner of about 10 square meters to an international stage of 2,000 people, Huang has witnessed China's development of promoting reading to children.
Since 2004, China's economic takeoff has allowed more people to buy popular picture books, both from home and abroad.
"Meanwhile, more parents began to realize that early reading is much more than simply learning words, and that good books and reading promoters are greatly needed," said Wang Lin, an expert in children's literature and one of China's first batches of reading promoters.
So far, there are about 200 experts in book-related industries, such as publishing houses, bookstores, and libraries, working as reading promoters of children's books, like Huang, in Wuhan.
The latest national reading report published on April 16 shows that reading with young children is a regular practice in about 70 percent of Chinese families with children aged from several months to eight years old.
Insiders say that children who read have a higher development of personal expression, writing abilities, increased knowledge acquisition and a more complete reading framework.
"The children's library of southern Chinese city Shenzhen hosts more than 1,800 reading activities each year with reading promoters involved," Wang said.
Besides telling stories to children based on their ages and interests, reading promoters also give lessons to parents.
"It is very important that parents have good storytelling skills as they have the most direct contact with their children," reading promoter Huang Lei said.
Every year, Huang Xiaofeng participates in more than 80 off-line reading activities and over 20 online lessons targeting children and parents. "I want to tell beautiful stories to every child, guiding them into these stories and giving them a fruitful childhood," she said.
Email: gaohan@nbd.com.cn
Editor: Gao Han