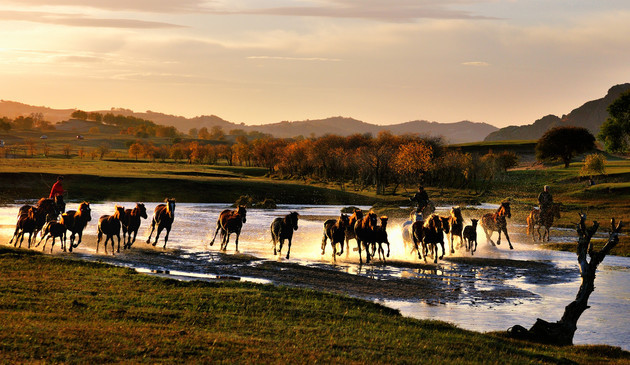 Photo/Shetuwang
Having spent half a century perfecting the art of traditional ethnic Mongolian saddle-making, artisan Togtonbayar is keen to pass on his craft to future generations.
Walking into the studio of Togtonbayar, a 73-year-old national-level inheritor of China's intangible cultural heritage of Horqin Mongolian saddle-making, you can see whips, reins and girths hanging on the wall. On his table, colorful accessories made of gold, silver, bronze, iron, jade and stone shimmer in the sunlight.
Togtonbayar started learning how to make traditional Mongolian riding gear around age 18 and has since devoted more than 50 years to learning the techniques. He is especially good at making saddlery native to his hometown of Horqin Left Wing Rear Banner in Tongliao city in North China's Inner Mongolia autonomous region.
According to Togtonbayar, riding equipment differs a great deal from place to place, especially in terms of size and shape. A whole set of tack normally includes a saddle, headstall, whip, stirrups, reins and some other items - with the saddle being the most integral element.
"Our saddles offer a relatively broad seat, but other parts of it are narrow compared with their counterparts elsewhere. They're designed to ensure the most comfortable ride possible," says Togtonbayar.
The riding gear is also decorated with exquisite embroidery by his wife, who learned the tradition from Togtonbayar's mother when she was young.
A single saddle usually takes the couple 15 to 20 days to make. But the exquisite decorations require more time, sometimes taking up to a month to finish.
"Saddles are separated into different categories according to their materials. Some saddles made using gold or silver require more demanding techniques from the craftspeople. A normal saddle costs 3,000 ($448) to 4,000 yuan to make, while a high-end one can cost between 20,000 and 30,000 yuan."
Ethnic Mongolians are known as the "horseback people" with a history of making saddlery for over 2,000 years. Horqin Left Wing Rear Banner is said to be the "hometown of the horse kings", and it's traditional for people there to raise horses.
Togtonbayar has raised and ridden horses since childhood. His father and grandfather were good at making riding equipment, and he learned the skills from them.
"We ethnic Mongolian people view horses not only as a necessity in our lives but also as our friends. I've loved horses since I was a boy, so it's natural for me to make saddlery."
He says he has no other hobbies. Over the years, he has made more than 1,000 sets of gear.
In 2008, Togtonbayar became an inheritor of this craft and his work was displayed at the 2010 World Expo in Shanghai, winning him a gold prize for his handicrafts.
Togtonbayar also worries about the inheritance of his craft: "Now young people tend to ride motorcycles and drive cars instead of riding horses, so there are fewer people making and buying riding gear.
"Many young ethnic Mongolians are ignorant of the names and uses of different types of equipment. If we cannot pass the craft on to them, part of our culture will be lost."
But his family has given him a lot of support. His eldest son has now picked up the handicraft. As a cultural inheritor, he receives a subsidy of 20,000 yuan every year from the government and is offered a 400-square-meter studio in Tongliao, where he imparts his craft to five ethnic Mongolian apprentices.
When the craft was featured by media after some of his work was shown at the 2010 World Expo, a Japanese postgraduate student came to China to learn from him for a month.
"The student picked it up quickly. He showed great interest in the craft and wrote an essay about it when he returned home," says Togtonbayar.
Togtonbayar is still devoted to this craft.
"I have the responsibility to make better works and pass on the traditional culture of our ethnic group to the next generation. Although society develops, we cannot forget our own culture," says Togtonbayar.
"As long as I am able to work, I will insist on doing it."
Email: gaohan@nbd.com.cn
Editor: Gao Han