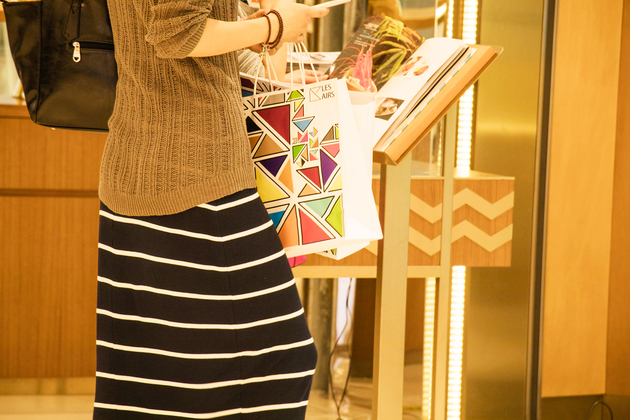 Photo/Shetuwang

Mar. 29 (NBD) – Young consumers in China's second-, third- and fourth-tier cities show greater consuming desire and capability for fashionable products and digital devices, compared to the group in the first-tier cities.
While the first-tier cities are labeled "strong purchasing power" and "high Internet penetration rate", the rest of areas are deemed to stand on the opposite.
On the contrary, the boost of mobile apps in live streaming, short videos, group buying and news reading fields gives youth in those areas more access to information about fashion trend.
The internet is eliminating distance of people from diverse regions.
When Apple's new service and hardware debuted at the press release on Monday, all Apple fans across China were watching broadcasting with excitement in front of their phones or computers.
A graduate surnamed Wu is a member of this team. Taking a position as civil servant in his home town Suqian, a prefecture-level city in north China's Jiangsu Province, the youngster is a digital device addict.
"The new AirPods and iPad mini come! Check them out! The iPad mini starts at less than 3,000 yuan (445.5 U.S. dollars). Do you want one?" he texted a friend.
On the next day of the new launch, Wu put the latest iPad mini into his to-buy list.
It is observed that though young adults who work in mega cities enjoy considerable incomes and better Internet services, their living and time costs are relative higher than their peers in second- and third-tier cities.
"How much salary should a person earn every month in Beijing to achieve the same living standard for a 5,000 yuan (742.6 U.S. dollars) monthly pay in a second-tier city?" even becomes a heated topic among white-collar Beijing drifters.
With equal chance to acquire information, those in smaller cities have more spare time and less living pressure especially housing costs.
After finishing study in the university for three years, a video editor with the surname Jiang is serving in a film and television company in Shenyang, northeastern China. He is familiar with the latest iPhone, iMac, PS4, Switch and popular brands like Aape, Avisu.
As he lives as a Shenyang native that has no need to pay for the rent, using up the salary of 8,000-9,000 yuan (1188.1-1336.6 U.S. dollars) has been his routine.
Compared with the 996 work schedule (9 a.m. to 9 p.m., 6 days a week) that young people in first-tier cities have long been accustomed to, the enviable 9-6 schedule is frequently adopted in other locations, which gives youth there more after-work hours for entertainment or information search for their favorite products.
This is reflected in the box office performance of the film market.
In 2015, Monster Hunt topped the box office in the domestic sector with 2.44 billion yuan (362.4 million U.S. dollars), 40 percent of which are contributed by towns below the first tier.
Email: zhanglingxiao@nbd.com.cn

Editor: Zhang Lingxiao