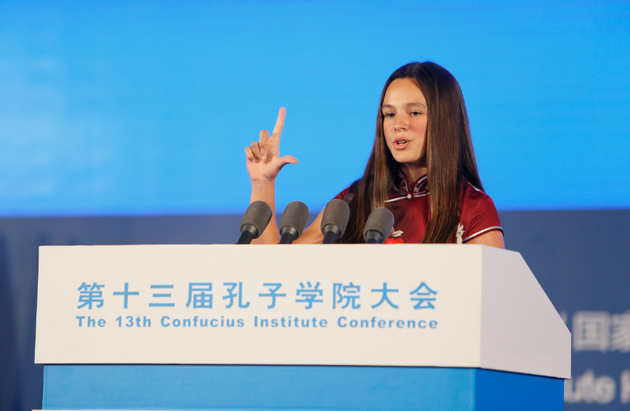 Kamila Carter/Photo provided by Hanban
Dec. 5 (NBD) -- "The Confucius Institute is like a big family where we learn knowledge and meet new friends," said 12-year-old speaker Kamila Carter when sharing how she became multilingual at the 13th Confucius Institute Conference Tuesday in Chengdu, southwest China's Sichuan Province.
Carter has a talent for language. Born to and raised by hearing-impaired parents, she communicates with her parents in Spanish and American sign languages. She speaks English and Spanish when talking with her grandparents.
"I am lucky. My parents encouraged me to learn different languages when I was young. And now I'm learning Chinese and Chinese sign language," the girl in red cheongsam said in Chinese.
Carter's connection with oriental culture began at the age of six when her parents took her to a Mandarin-immersion primary school in California. It was there that she heard mandarin for the first time, which was so amazing, Carter stated.
"My friends think it is very cool when they learned I'm learning Chinese," Carter told NBD. A lot of people may know Chinese, but they don't know Chinese culture. 
She participated in her first Chinese Bridge Competition through the Confucius Institute at San Diego State University as a third grader but didn't win at that time. However, she took the crown with a song a Thankful Heart in Chinese sign language two years later. "That might be the biggest surprise for me," she said excitedly.
"The Confucius Institute has presented me with a lot of opportunities, making me understand the importance of communication," Carter told NBD.
With the help of the Confucius Institute at San Diego State University, Carter made her first cultural tour to China. In the summer of this year, she visited the Great Wall and lived in a Chinese family in Linyi, Shandong Province.
In addition, "The Confucius Institute always encourages me to face up to challenges and offers help to students who are in needy, just like me, " Carter shared at the conference.
The tour to Chengdu hasn't finished, but the girl is anticipating to share her visit with her parents. "There have a lot to tell and I know they will be happy. I am expecting their smile because that will be the happiest moment in the world," Carter said on the stage, with a big smile on her face.
With regard to the question what she is going to be, she said she will do her part in Sino-U.S. communication whatever jobs she takes in the future. 
Email: tanyuahan@nbd.com.cn 
Editor: Tan Yuhan