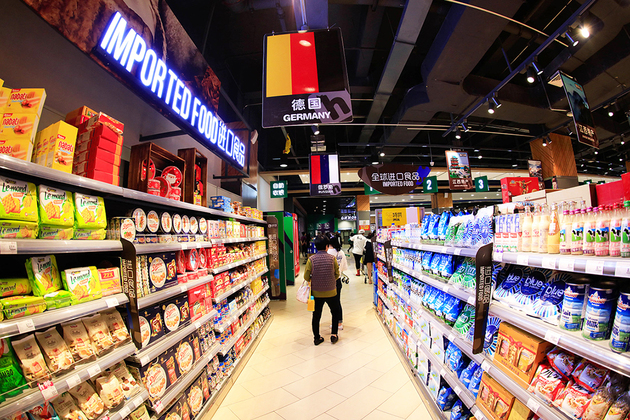 Photo/VCG
Oct. 11 (NBD) -- U.S. tech company IBM made an announcement Monday that its blockchain-based food tracking network Food Trust is commercially available after 18 months of testing.
The platform enables users to track and share with each other the information about cultivation, processing and delivery of products.
During the trial period starting from August 2017, a number of retailers, suppliers and growers, including Nestle S.A., Tyson Foods Inc. and Unilever, joined the network to improve Food Trust's traceability, transparency and efficiency, and 3 million transactions have been processed on the ledger of the platform.
Along with the release of the network, IBM also announced partnership with French food retail giant Carrefour. The retail titan, which now operates more than 12,000 stores in 33 countries, plans to first use IBM's solution to trace its private label products in France, Spain and Brazil. Carrefour will then expand the use of the Food Trust system to 300 fresh products worldwide by 2022, securing its supply chain and allowing customers to trust in their food, said Laurent Vallee, secretary general of the retailer.
It is noteworthy that another retail company Walmart has also cooperated with IBM to enhance food safety. Last month, the giant said Walmart and the Sam's Club division will require all suppliers of leafy green vegetables to upload their data to Food Trust by September 2019.
According to IBM, the network now is open for all businesses along the food supply chain. The trace module pricing for enterprises ranges from 100 U.S. dollars a month to 10,000 U.S. dollars a month depending on size of the enterprise.
IBM's new move signals the change of the company's business model, shifting from charging for a single blockchain project to charging for the whole network, Wang Pengfei, founder of Traceability Chain, said to NBD.
NBD noticed that Chinese enterprises are also developing product traceability system applying the blockchain technology.
On March 3 this year, e-commerce company JD.com stated that it will unveil a blockchain platform designed to track the imported beef from overseas meat suppliers.
Hangzhou-based conglomerate Alibaba released its blockchain-based product tracing service in April 2018.
Besides, commercial firm Suning has set up a blockchain traceability platform used to ensure the quality of its fresh food, luxury goods, maternal and child supplies and imported products. The company is expected to put the information of all products on its platform in the future, which allows customers to trace a product during the entire production and sales process through scanning the code.
Email: zhanglingxiao@nbd.com.cn
Editor: Zhang Lingxiao