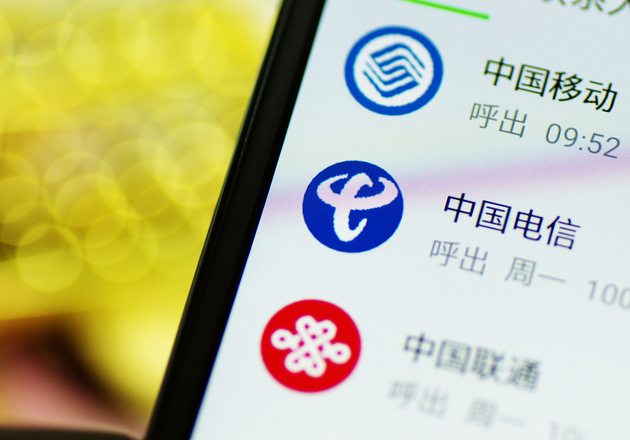 Photo/VCG
Apr. 16 (NBD) -- Top three Chinese telecom carriers - China Mobile, China Unicom, and China Telecom - released annual results for 2017 in recent weeks, all reporting a rise in operating revenue and net profits. 4G data served as a huge contributor.
The 2017 annual report of China Mobile says wireless network services generated half of its total operating revenue for the first time.
According to a report released by the Ministry of Industry and Information Technology of China, mobile phones have consumed a total of 23.5 billion gigabytes (GB) in 2017, up 179 percent year on year.
In order to encourage users to use mobile networks, top three demestic carriers have all launched unlimited data plans and lowered fees in varying degrees.
Unlimited data plan with limited speeds
NBD noticed that unlimited data plans do not mean there is not any restriction at all.
For example, China Mobile has launched an unlimited data plan in Beijing, which costs only about 98 yuan (15.6 U.S. dollars) a month and includes 20 GB of data for use in mainland China. When the 20 GB runs out, users can still access to the Internet for free in the remaining days of the month, but the network speed will be reduced to 1Mbps. When data consumed surpasses 100 GB, the network speed will be further limited to a maximum of 128Kbps.
Fu Liang, an expert in the telecom industry, said the network speed of 1Mbps is sufficient for website and Sina Weibo post browsing, but is not enough to watch videos.
On March 31, China Unicom launched a similar unlimited data plan with two options - 99 yuan (15.7 U.S. dollars) or 199 yuan (31.6 U.S. dollars) per month. While the 199-yuan package offers unlimited data access and voice calls, the 99-yuan one has a limitation in network speed when the data consumed tops 20 GB.
China Telecom offers a 49-yuan (7.8 U.S. dollars) unlimited data plan, under which users will face a limitation in network speed when the data consumed reaches 10 GB.
Charging model for 5G likely to be different
Why carriers offer unlimited data plan with limited speed?
Fu explained that the cost of a truly unlimited data plan would be pricey. Besides, customers may also experience reduced speeds during times of network congestion.
Actually, intra-provincial unlimited data plans have been available for a long time. In order to answer the government's call for reduction in data fee, carriers start promoting such plans across the nation, Fu added.
On April 4, Premier Li Keqiang presided over a meeting of the State Council's Standing Committee, which requires carriers to cancel fees of roaming services in mainland China, and to further cut fees of mobile data and household broadband.
In addition, 5G is expected to be put into pre-commercial use in some regions of China in 2019 and large-scale commercial use in 2020.
Fu told NBD that 5G services will be charged in a whole different way compared with 4G and current broadband services. As 5G will be applied to wider areas such as mobile phones, video surveillance and smart entrance control, and even bike-sharing, carriers will offer more varied packages.
Email: tanyuhan@nbd.com.cn
Editor: Tan Yuhan