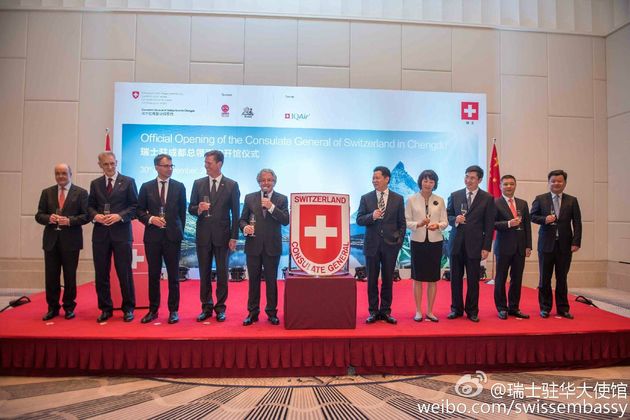 CHENGDU, Dec. 1 (NBD) -- Switzerland on Wednesday officially opened its Consulate General in Chengdu, capital city of southwestern China's Sichuan province. 
With Switzerland's expansion of diplomatic presence in China, bilateral relationship reaches a higher stage since the establishment of the Innovative Strategic Partnership in April this year. 
Consulate General in Chengdu is Switzerland's fifth official representation in China, in addition to the embassy in Beijing, and the consulates general in Shanghai, Guangzhou and Hong Kong. It serves China's Southwestern provinces of Sichuan, Guizhou, Yunnan and Chongqing. 
The new consulate will focus on promoting economic and business activities between Switzerland and Southwest China region. It will also contribute to improving Swiss innovation and tourism industries. Consular and visa services are not available currently in Chengdu consulate and Swiss citizens are recommended to proceed to its embassy in Beijing for relevant services. Chinese citizens applying for visas are suggested to summit documents to Swiss Visa Application Center in Chengdu.
In addition, the latest collaborative program Sino-Swiss Low Carbon Cities Project and International Seminar for Industry Development is taking place Thursday and Friday in Chengdu. Swiss and Chinese scholars will exchange their expertise in city sustainable development and make proposals on reducing greenhouse gas emissions and achieving sustainable growth for industries.
Editor: Zeng Yunheng