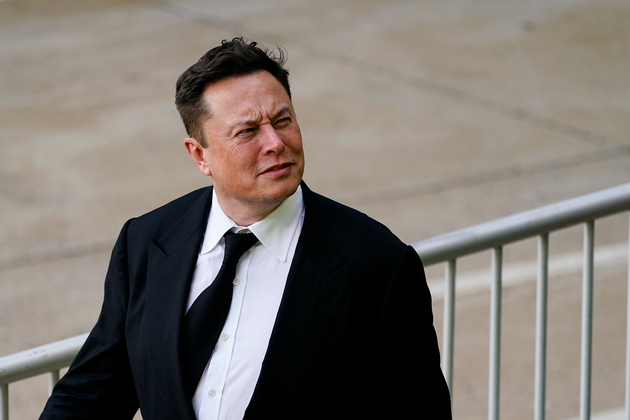 Photo/VCG
According to multiple US media reports earlier this week, Musk has told people familiar with the matter that he is taking small doses of ketamine to treat depression and also took a full dose of ketamine at a party.
Ketamine, commonly known as K powder, is a non-opioid narcotic drug, usually used as an anesthetic for surgical resection of tissue, reduction and fixation of broken bones. There is also research suggesting that ketamine may be used to combat severe depression that has not been treated by other methods.
Back in 2017, Musk tweeted that he may be suffering from bipolar disorder. "The reality is great highs, terrible lows and unrelenting stress," He wrote.
Musk did not comment directly on the latest media reports. But about two hours after the publication of the foreign media report, the "heavy Twitter user" posted another tweet that seemed to be an indirect response to the report. "Depression is overdiagnosed in the United States, but for some people it's really a brain chemistry problem.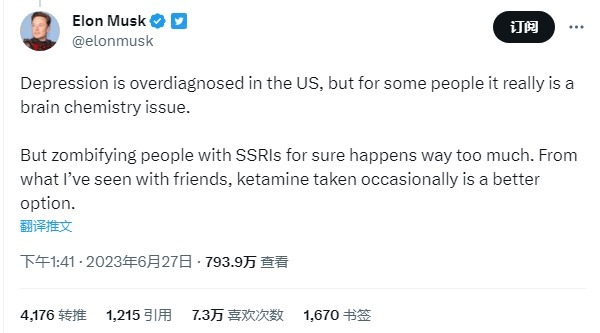 Photo credit: Twitter
NBD noted that as early as in 2018, Musk openly smoked marijuana while participating in a show by Joe Rogan, a well-known American radio host. As a result, Tesla's stock price fell 9% in a short period of time, and the company's market value fell by several billion dollars. Since then, Musk has been subject to a lot of controversy, and the US federal government has even tested him for a full year to determine whether he is an "addict."
Musk is not the only tycoon in the United States to dabble in hallucinogenic drugs. According to the Wall Street Journal, Google co-founder Sergey Brin has also taken psilocybin. Many executives also hired pharmacists and even bought ecstasy and other hallucinogens from drug dealers, the report said.
According to reports, the use of hallucinogenic drugs has become so common in the United States that ketamine can be injected for $750 at luxury clinics in Manhattan. Founders Fund, a SAN Francisco-based venture capital firm, has hosted exclusive parties where people take hallucinogenic drugs.
The global market for hallucinogenic drugs is expected to grow from $2.9 billion in 2021 to $8 billion in 2029. There are reports that the use of psychedelics, including LSD, has increased among adults over the past 20 years.
As soon as Musk's news came out, it immediately triggered widespread public attention. In fact, as the world's richest man, Musk is not only under the spotlight with shocking actions".
Recently, after Meta announced that it would launch the application Threads, which is regarded as a fierce rival to Twitter, in July, Musk sent a "cage fight" with Meta CEO Zuckerberg in the octagon cage in Las Vegas. Later, the media said that the Italian culture minister proposed that the two men face off in Rome's Colosseum.
On Friday, Beijing time, Musk had already promoted the Colosseum venue on Twitter. Who will win, it is to see.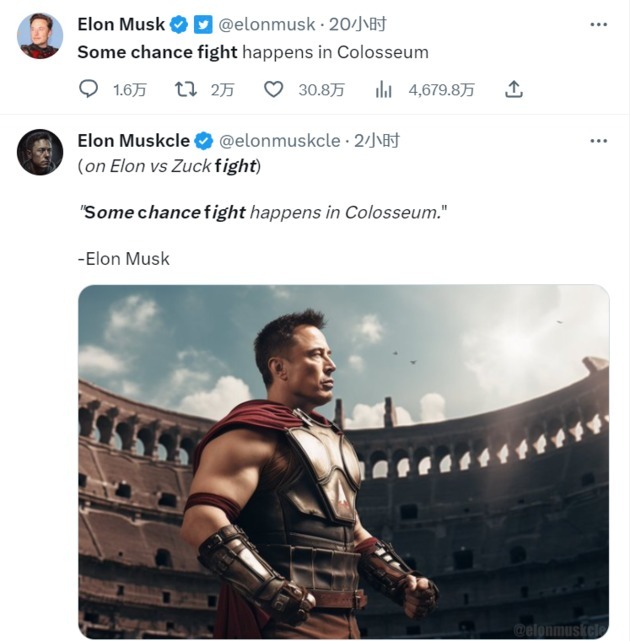 Photo/Twitter
Editor: Alexander