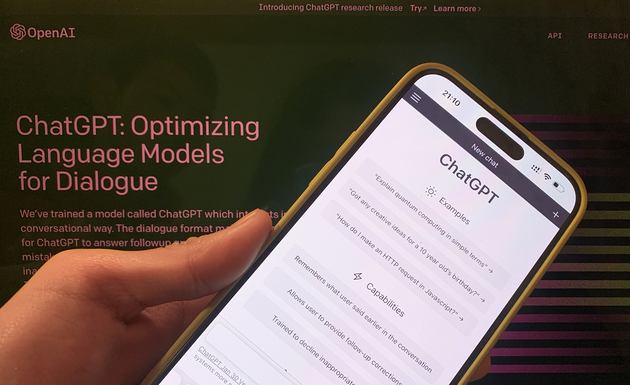 Photo/VCG
This week, the domestic venture capital circle has witnessed a fierce debate over whether the entrepreneurship of AI large models is overheating.
Chatgpt June visits growth may turn negative
The emergence of ChatGPT has led to a surge in technology stocks in the US stock market, with analysts cautioning the risk of the return of the Internet bubble.
According to web analytics firm Similarweb, Chatgpt's total global visits in May were about 1.8 billion, up 2.8% month-over-month. But given that May has 31 days, the growth of global visits in May stalled.
In the first five months of 2023, the growth of global visits to ChatGPT increased by 131.6%, 62.5%, 55.8%, 12.6% and 2.8% respectively, which has been in a downward trend. As of June 20, according to the most recent data available, ChatGPT was about 38 percent less visited than it was in May. The final figures for June are not yet available, but the industry expects it will likely fall into negative territory.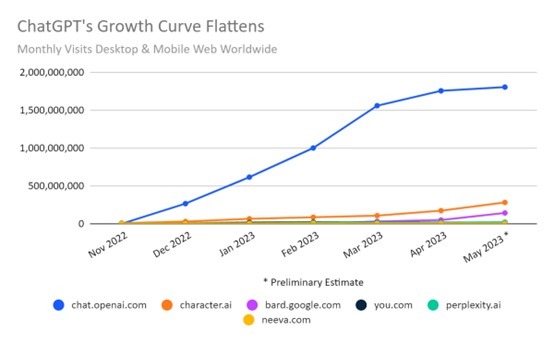 Image credit: Similarweb
In terms of user volume, 206.7 million independent visitors has visited ChatGPT. Given the slight increase in total visits in May, the increase in users in May should not be too large.
Bing, Microsoft's search engine that incorporates ChatGPT, saw traffic jump more than 15 percent in March, but it has struggled to keep up. According to Similarweb, Bing had 1.4 billion visits in March, but that figure fell to 1.3 billion in April and May.
According to the statistics of AceCamp Research, the weekly traffic trend of mainstream chat AI tools has stagnated or even been declining. In particular, Google's Bard, which opened in early May and saw a spike in traffic in the first week, began to decline after hitting a record high in the second week.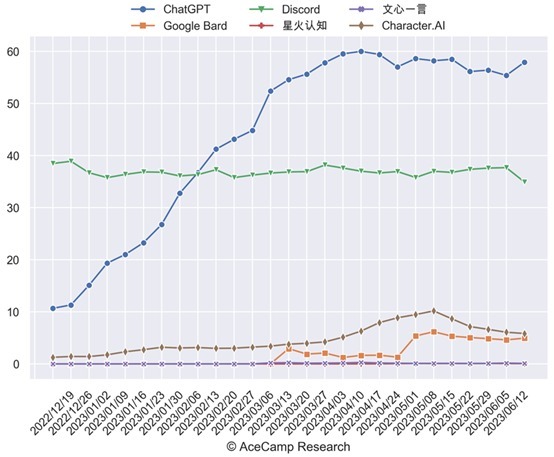 Image credit: AceCamp Research 
Has the novelty of generative AI passed? Perhaps not from a simple view of the number of visits, because this data does not reflect the full picture. Similarweb's traffic data does not include the number of people using ChatGPT through the application programming Interface (API), which is the strategic focus of OpenAI.
According to a meeting note of June,OpenAI CEO Altman said that ChatGPT's mission is to build ChatGPT into a super-intelligent work assistant to attract more enterprises to access its API, rather than to seize traffic from enterprise customers. More than 80 percent of the heavy users surveyed use APIs to access ChatGPT.
Due to computing power and costs, OpenAI seems to be downplaying the use of ChatGPT on the C end. At a congressional hearing back in May, Altman said it would be better if fewer people used ChatGPT because of the computing bottleneck. ChatGPT is estimated to cost as much as $700,000 per day to operate, and the $20 per month that C-side users pay for the advanced product is not enough to cover that cost.
The incomplete data is also reflected in user surveys. According to a survey of 2,000 people conducted by Morgan Stanley in April, only 19% of respondents had used ChatGPT and 9% had used Bard. According to a study released this week by Bank of America, 59 percent of 1,100 U.S. Internet users use ChatGPT, 51 percent use Bing, and 31 percent use Bard. Both studies had small samples and were not methodologically rigorous, leading to conflicting answers.
On the other hand, from the perspective of the industry as a whole, ChatGPT is far behind the second-tier players, both in terms of total visits and users. At the same time, from the month-on-month point of view, the visits of the second-tier Bard and Character.AI are still in the stage of rapid growth, with a month-on-month growth rate of 187.2% and 62.5% in May.
AceCamp Research believes that even if the head traffic is declining, the number of players entering the AI big model competition and the second and third-tier players' traffic are still growing rapidly, and AI applications cannot be studied with the logic of mature industries.
Dot-com bubble again? 
In parallel with the stagnation of ChatGPT traffic, the enthusiasm of the capital market for the AI field has also begun to attract doubts. The most vocal was Michael Hartnett, chief investment strategist at Bank of America, who likened the stock market's enthusiasm for AI to a "baby version" of the dotcom bubble of the early 2000s and said it would soon "mature." In the week ended June 21, investors sold $2 billion of tech stocks, the most in 10 weeks, which became a big part of Michael Hartnett's argument that investors are losing interest in AI.
When the Dot.com bubble burst in the early 2000s, the Nasdaq 100 fell 78 percent over a 20-month period. Art Cashin, head of floor trading at UBS, and renowned economist David Rosenberg have both compared the AI craze to the dot-com bubble.
Futu's US stock ChatGPT concept stock data shows that from the beginning of the year to the close of June 30, the sector rose 51%. Among them, Nvidia rose 189.54%, Meta up 138.47%, Innodata, BigBear.AI Holdings, C3.AI and other small-cap stocks were also traded up more than 200%.
China, as one of the two major powers in generative AI, had 79 large AI models by the end of May. This week, the domestic venture capital circle also saw a fierce debate about whether there is a bubble in AI entrepreneurship, causing various onlookers. Zhu Xiaohu, managing director of GSR Venture Capital, believes that when 99 percent of the value is created by GPT, "what is the value of such startups".
"We see this as the 'dot-com moment' of 1995, not the 'dot bubble moment' of 1999, because we've been analyzing the tech industry for decades and witnessed the Dot.com bubble and bust firsthand." Dan Ives of WedBush Securities, a well-known Wall Street technology analyst, said in an email to NBD that "this is the beginning of the fourth industrial revolution, which will gradually unfold over the next few years, and Wall Street is still underestimating it."
Dan Ives believes that driven by AI, technology stocks will deliver strong earnings in the second quarter, and technology stocks will rise another 12% to 15% in the second half, and chip companies and several major technology giants will be the leaders. He also estimates that spending on AI will account for 8 to 10 percent of IT budgets in 2024, with CFOs around the world prioritizing AI software as the focus of their spending.
"While bears will continue to be concerned about high valuations in tech stocks and uncertainty in the macro environment, we believe this is the start of a new bull market led by the AI revolution that will continue through 2024," said Dan Ives.
Compared with the strong support of Dan Ives and the cynicism of Michael Hartnett, many investors are "sitting on the fence." Anthony Scaramucci, founder of hedge fund SkyBridge, told Bloomberg TV on June 30 that AI may indeed be in a bubble, but there are still some high-quality AI stocks worth owning. Nvidia may be overvalued now, "but if you hold it for 15 years, that's probably OK".
Analysts at Barclays Bank recently said that if there is a correction in the AI sector, it is a good time to enter, because the price-earnings ratio of AI stocks has not reached the historical extreme, and in the long run, the growing AI economy will gradually bring the leading companies closer to the value given by the market.
Disclaimer: The content and data in this article are for reference only and do not constitute investment advice. Please verify before use. 
Editor: Alexander