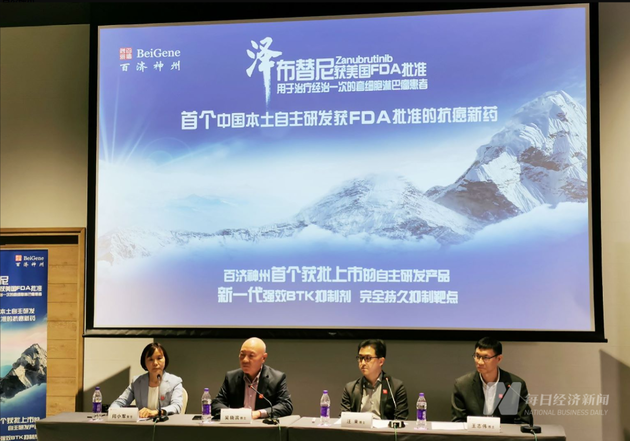 File photo/ NBD
BeiGene's star product, Brukinsa (zanubrutinib) has encountered trouble. According to reports, AbbVie Inc. claims that BeiGene's cancer drgu Brukinsa infringes on its patent and will file a lawsuit in a US district court.
On the afternoon of June 15, a BeiGene spokesperson told National Business Daily (NBD) on WeChat that they are aware of the situation and will respond to the complaint at the appropriate time and actively defend themselves. The person added that internationally, it is common for companies to use patent litigation to protect their rights in the global market for competitive drugs. BeiGene stated that the company highly respects and values the legitimate intellectual property rights of other companies.
Data shows that BeiGene achieved revenue of 9.566 billion yuan in 2022, a year-on-year increase of 26.1%. Among them, the global sales of Brukinsa reached 3.829 billion yuan, with sales in the United States reaching 2.644 billion yuan. Currently, Brukinsa's revenue in the US market accounts for nearly 70% of BeiGene's global sales.
The importance of zanubrutinib to BeiGene is self-evident. Looking at the entire industry, it is also the first anti-cancer drug independently developed by a Chinese company and approved by the FDA.
A representative from a domestic innovative pharmaceutical company told NBD that one of the challenges that pharmaceutical companies will inevitably face in the process of internationalization is patent challenges.
In his opinion, Chinese companies need to pay attention to three points. "First, focus on originality and do a good job in intellectual property construction and protection; second, establish or hire a professional and experienced legal team; third, do not fear difficulties and move forward with determination. Among them, the most important thing is to have genuine original innovation."
Editor: Billy