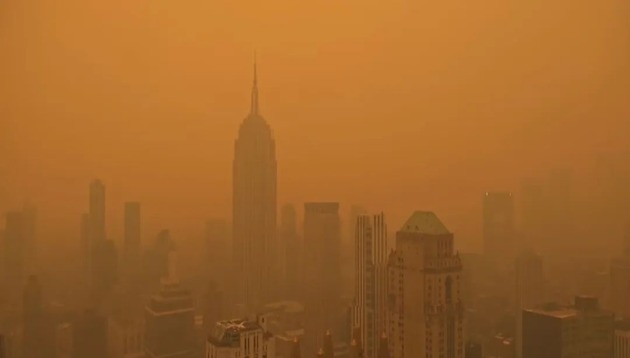 A 62-year-old meteorologist who works at a weather station in the suburbs of Rochester City in northern New York State, broadcasted his first "air quality alert" in his 30-year career, according to Global Times on June 9th, 2023.
Recently, parts of the eastern United States have been shrouded in "orange smog" due to the continuous southward movement of wildfire smoke in Canada.
American meteorological experts predicted that "air quality in the East Coast region will continue to deteriorate until the weekend." The United States has sent more than 600 firefighters to Canada, and firefighters from France, Portugal, Spain, Mexico, Australia, New Zealand, South Africa and other countries are also on their way to provide support.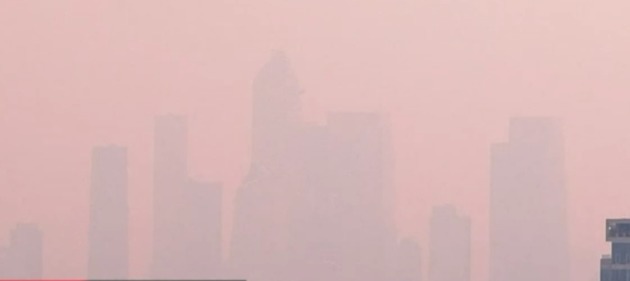 Photo/CNN
According to CCTV News, on June 8th local time, UN Secretary-General's spokesman Dujarric said that the United Nations headquarters in New York abandoned the flag-raising for the first time due to air pollution.
According to Global Times reporter on the evening of the 7th local time, a friend in New York described that the sky in New York was full of smoke that day, and people outdoors had to inhale a lot of harmful gases. This has seriously affected the normal life of citizens.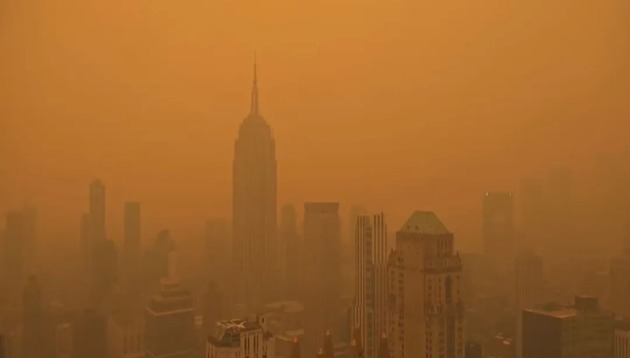 Photo/VCG
A spokesman for New York City public hospitals said on Wednesday that some emergency departments in the city have found an increase in respiratory symptoms related to smoke. Reuters reported on 8th that New York's famous skyline, which is usually visible for several miles away, seems to have disappeared in a layer of super smoke. Wildfire smoke is associated with increased rates of heart disease and stroke, asthma and other respiratory diseases, eye inflammation, itching and rashes.
The New York Times reported that due to the shortage of masks on the market, New York State Governor Hochul announced that he will provide 1 million N95 masks to the public, of which 400,000 will be distributed in public facilities such as central stations in New York City, and the rest will be provided to local governments throughout the state.
According to CCTV News, on June 7th local time, due to the thick smoke from wildfires in Canada causing reduced visibility, the Federal Aviation Administration (FAA) issued a ground stop order for LaGuardia Airport in New York. 
Editor: Alexander