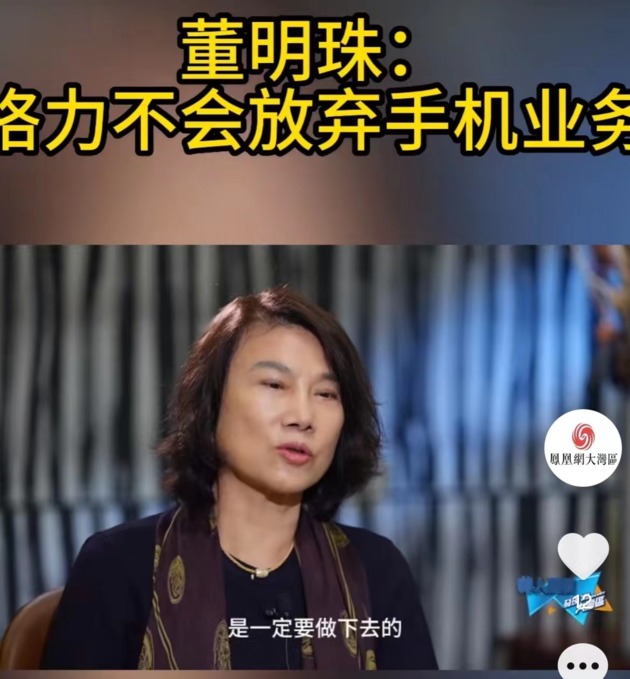 Photo/video screenshot of Phoenix TV
Recently, Dong Mingzhu, chairman of Gree Electric Appliances, responded to the "dissolution of Gree's mobile phone core team" in an interview with Phoenix TV.
"Phone-making is something I will never give up. Many consumers have used our phones and given us very positive feedback," said Dong.
As for the future of mobile phones, Dong Mingzhu said: "It is a process for us to design a phone that can not only make calls and take pictures but also get closer to consumers. It is a smart linkage for families no matter where you go."
"I think that if a company collapses, that is a failure. I think I am healthy, and so are our annual income and return to shareholders."
It is worth noting that from 2014 to 2021, Gree Electric Appliances mentioned Gree's mobile phones in its annual reports every year. However, in the 2022 annual report, Gree Electric Appliances no longer mentions "mobile phones".
According to public information, Gree's first-generation mobile phone product was launched in 2015. From 2015 to the present, Gree mobile phones have gone through six generations in eight years.
According to different configurations, the prices of Gree TOSOT Dasiong mobile phone G7 come in 2959 yuan and 3099 yuan respectively and are still on sale at the "Gree Dong Mingzhu Store".
At the shareholders' meeting on June 7, 2022, Dong Mingzhu responded to the question of whether Gree should become the new Apple of the era, "The phone I am making now is not worse than it." She also said that technology is constantly satisfying consumers' quality of life needs and that technology is endless. 
Editor: Alexander