China's first domestically-built large cruise ship, Adora Magic City, is scheduled to unlock at 1:30 pm on June 6th and moored to the berths 4 and 5 outside the dock. This marks the beginning of the dock mooring and debugging phase for the cruise ship, with the main construction of the ship completed and entering the equipment debugging stage and the final stage of interior decoration.
After completing the mooring and debugging test, the cruise ship is poised to complete two trial voyages. The cruise ship is scheduled to be delivered by the end of this year and officially put into operation next year.
The 24-storey-high Adora Magic City has 2,125 rooms and can carry 5,246 passengers. As a super-large single-unit electromechanical product, the number of parts installed on the cruise ship exceeds 25 million, which is five times that of the C919 aircraft and 13 times that of the "Fuxing Hao" high-speed bullet train. The cable used is over 4,300 kilometers long, which is equivalent to the distance from Shanghai to Lhasa.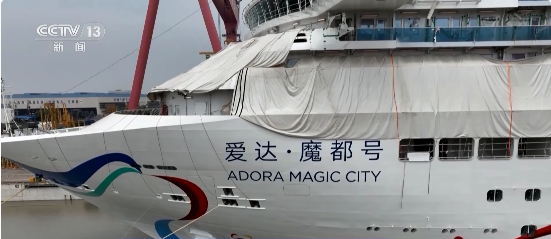 Photo/CCTV screenshot
Due to difficulties in design and construction, it is known as the "crown jewel" of the shipbuilding industry. The cruise ship is like a floating city on the sea, and its design and construction test a country's comprehensive manufacturing capabilities and comprehensive technological level. So, how difficult is it to build the first domestically-built large-scale cruise ship?
Wei Shengsheng, deputy director of the cruise ship project at Shanghai Waigaoqiao Shipbuilding Co Ltd, said, "For example, a large amount of thin-walled steel plates ranging from 4 to 8 millimeters is used. This traditional ship type would not use it because the cruise ship has weight reduction requirements and tries to make space for cargo."
While sailing on the sea and enduring wind and waves, the cruise ship also has to solve basic problems such as water supply, power supply, and sewage discharge, as well as the leisure and entertainment needs of thousands of people on board. It is difficult to coordinate and unify such complex functions in a limited space.
Wei Shengsheng explained that a normal cruise ship needs to accommodate about 6,000 people living on board at the same time. The number of equipment a large cruise ship needs is hundreds of times that of a regular passenger ship, so the space has to be used to the extreme.
In addition, with the continuous development of technology and changes in passenger demand, modifications must be made during the construction of the cruise ship. This is also a challenge for the enormous system.
Editor: Bell