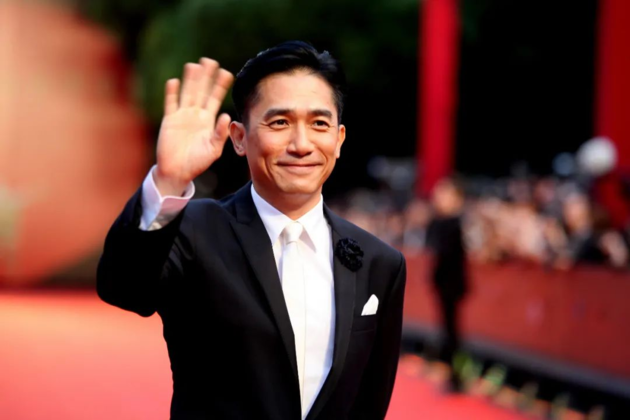 Photo/VCG
On March 27, 61-year-old Hong Kong superstar Tony Leung Chiu-wai became the first Chinese actor to be honored with a Golden Lion for Lifetime Achievement at the 80th Venice International Film Festival.  
Leung is also the third Chinese actor to receive the award after directors John Woo and Ann Hui. The Venice International Film Festival, along with the Cannes International Film Festival and the Berlin International Film Festival, is known as one of the world's three major international film festivals and the Golden Lion Award is the highest award of the Venice International Film Festival. 
Tony Leung has been in the industry for more than 40 years and has starred in hundreds of films and television works, giving brilliant performances in films such as Ashes of Time, In the Mood for Love, Infernal Affairs, Hero, Lust, Caution, and The Grandmaster, and winning numerous film awards including 5 Hong Kong Film Awards for Best Actor, 3 Golden Horse Awards for Best Actor, and the 53rd Cannes International Film Festival Best Actor Award, but this is the first time he has won an international film festival's lifetime achievement award. 
In Tony Leung's acting career, three of his films have won the Golden Lion Award at the Venice International Film Festival, namely, City of Sadness, Cyclo and Lust, Caution. 
Alberto Barbera, director of the Venice International Film Festival, said that Tony Leung's performance spans different types of TV dramas, popular culture and art films. "In his extraordinary career beyond national boundaries, Tony Leung is an extremely charismatic performer. He is recognized as one of the most important actors of his generation. As a unique star across Asia and global fields, he is constantly establishing his presence in the constantly evolving screen culture, breking the traditional concept of the 'male star' and bringing eye-catching sensitivity to every role he plays." 
When learned of the news that he has won the lifetime achievement award, Tony Leung said, "I was overwhelmed by the news from the Venice International Film Festival and I was honored to receive it. I would like to celebrate this award with all the film producers who have worked with me, and this award is also a tribute to them all."
Editor: Lan Suying