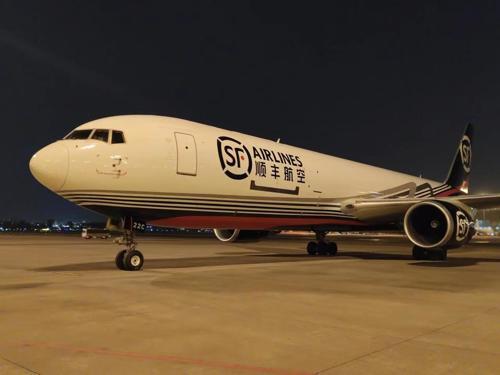 Photo/Courtesy of Shuangliu District, Chengdu
March 10 (NBD) -- A Boeing 767-300 cargo plane, loaded with 50 tons of China-made general goods and electronic products, took off from Chengdu Shuangliu International Airport at 9:43 a.m. on March 8 and flew to Chennai International Airport in India.
This is the first international cargo route opened by SF Airlines in Chengdu in 2023.
It is noticed that the electronic products are mainly from Henan and Shenzhen. According to the relevant person in charge of SF Airlines, the company plans to fly two flights from Chengdu to Chennai per week, both of which will make round trips on the same day.
The "Chengdu-Chennai" route is expected to complement with "Chengdu-Delhi" route operated by the company, providing a "double-channel" for the export and import of goods from Chengdu and its surrounding areas to South Asia.
As the "chain master" of cargo logistics, SF Airlines has opened international cargo routes from Chengdu Shuangliu International Airport to Kathmandu, Nepal, Hanoi, Vietnam, Seoul, South Korea, Dhaka, Bangladesh, Lahore, Pakistan, and Delhi, India. Next, SF Airlines will take advantage of Chengdu's superior location to expand more international cargo routes.
Wu Gang, a professor from the College of Transportation and Logistics at Southwest Jiaotong University, believes that the expansion of international cargo routes is an important measure to implement the national "dual circulation" strategy and the "four-way expansion and full-scale opening-up" strategy of Sichuan. This will help Sichuan, especially Chengdu, to serve the international air cargo industry and become an international hub city.
Editor: Tan Yuhan