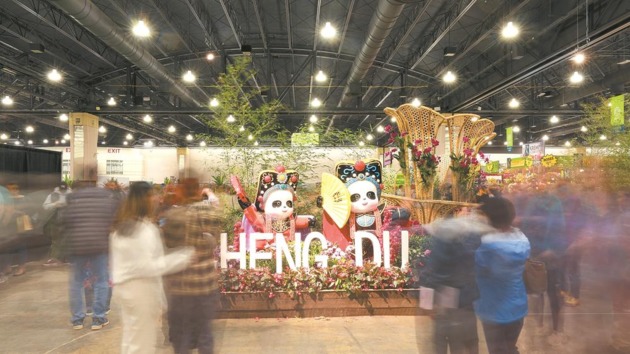 Photo/Chengdu Daily
March 6 (NBD) -- The 2023 PHS Philadelphia Flower Show kicked off on March 4, Pennsylvania, USA.
The Philadelphia Flower Show was founded by the Pennsylvania Horticultural Society in 1829 and is one of the largest and oldest flower shows in the United States. 
Chengdu's exhibition booth, featuring bamboo and giant pandas, made its debut on the day, making Chengdu the first Chinese city to participate in the event.
Chengdu's unique garden at the flower show is named by "Chengdu, Home of Giant Pandas", which consists of a lovely floral giant panda, two Sichuan Opera giant pandas and a delicate bamboo sculpture. Sichuan bamboo artists, and face-changing performers also showed their artistry at the exhibition booth.
With the dexterous hands flying up and down, bamboo strips are carefully woven into hand-made products of various shapes...Daoming bamboo weaving inheritor Yang Longmei and Huaiyuan Rattan weaving inheritor Yang Jing's skillful hands impressed many visitors. 
Huang Ping, Chinese Consul General in New York, said at a press conference that the Chengdu exhibition booth added Chinese elements to the Philadelphia Flower Show and expects more people-to-people exchange. 
Matt Red, president of the Pennsylvania Horticultural Society, told Xinhua News that the exquisite bamboo weaving techniques and giant panda elements of the Chengdu exhibition booth have added creativity to the Philadelphia Flower Show. He hoped that this flower show will be an opportunity for deepening exchanges and cooperation between the two sides.
At the flower show, a special promotion meeting for the International Horticultural Exposition 2024 Chengdu was also held, expecting a reunion with friends and guests around the world.
Editor: Tan Yuhan