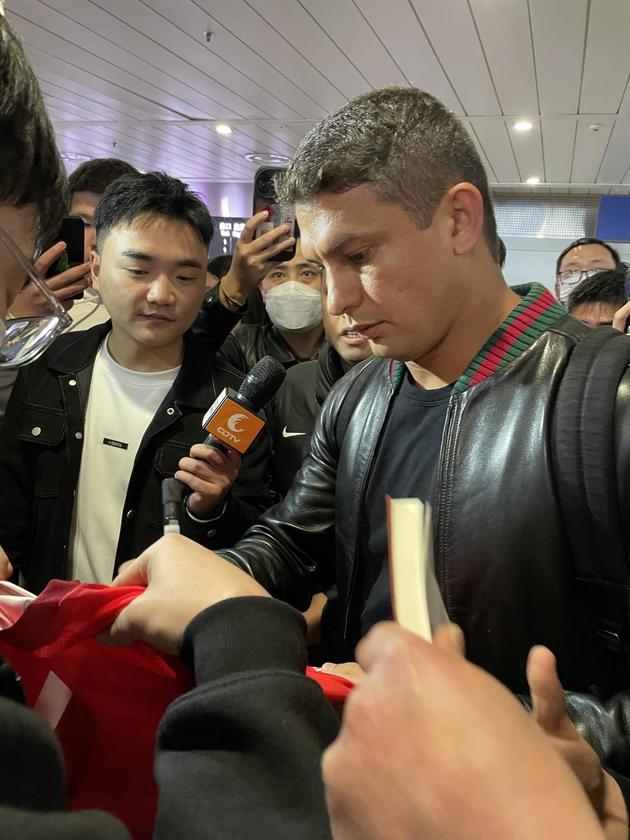 Photo/Red Star News
Feb.23 (NBD) -- Former Chinese Super League top scorer Ai Kesen arrived in Chengdu, China on February 23, signaling his possible return to the league and tie with Chengdu Rongcheng FC.
Born in Brazil, Ai Kesen obtained Chinese citizenship in 2019 through naturalization and represents China internationally.
Aksen arrived at the Chengdu Shuangliu International Airport this afternoon, where he was welcomed by numerous Chengdu fans.
At 15:30, wearing a leather jacket and carrying a backpack, Ai Kesen walked out with 4 large suitcases, causing a burst of cheers from the fans. Ai Kesen seemed to be unaware of the large crowd that had come to pick him up. He went to greet the fans, patiently satisfying everyone's requests for autographs and photos.
According to the news released at the previous league, the Chinese Super League is scheduled to start in mid-April of 2023, but it has not been finalized. Ai Kesen's early arrival will facilitate his integration with the team by fully participating in the Spring training. 
After joining Chengdu Rongcheng RC, Ai Kesen will be registered as a domestic player, which will solve the problem of the lack of a strong attacking forward in the club and will give the club a higher attacking level in the new season.
Editor: Tan Yuhan