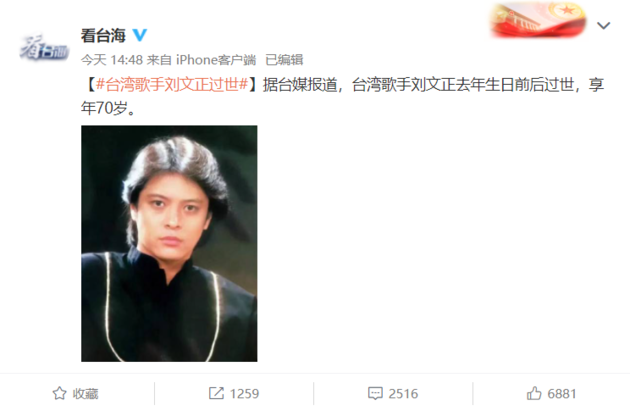 Photo/Weibo
Feb.15 (NBD) -- Liu Wenzheng, a legendary Chinese pop singer in the 1970s and 1980s, passed away due to a heart attack on November 12th last year in Las Vegas, USA, at the age of 70, confirmed his former agent Xia Yushun, according to Taiwanese media.
"The last time I saw him was two years ago," said Liu. " I used to contact him every month. One day in last December, I felt uncomfortable and called his family, only to find out that he had passed away. Every time I saw our photos I miss him very much, added Liu. 
On hearing the news, many Weibo users expressed their condolences to Liu. 

Liu Wen-zheng was a representative male singer. His most famous works include "Rain in March", "Shining Days", "Rainy Scene", "Hotline You and Me", "Late", "Shower on Me", and "Grandma's Penghu Bay". 
Liu's first album Nuoyan (The Promise), released in 1975, launched his singing career when it became an instant hit. In the same year, he started performing with his first movie being "Inside and Outside the Door". Later on, he created and hosted many highly-rated TV shows, setting a new milestone in TV variety shows.
In 1984, he ended his contract with Polygram. At the end of 1986, he returned to Taiwan, China, founding and managing Flying Eagle Records, which cultivated many artists such as Lynne, Yi Nengjing, Qiu Haizheng, and Wu Qixian. In 1991, Liu Wenzheng ended Flying Eagle Records and officially moved to America and lived in seclusion. 
Editor: Tan Yuhan