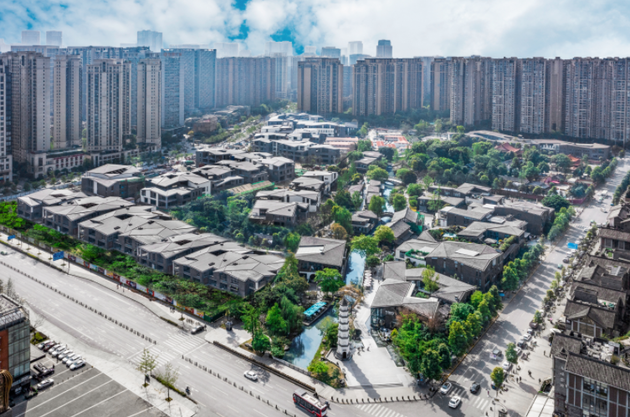 In recent years, Chengdu Hi-tech Industrial Development Zone (CDHT) has taken advantage of urban organic renewal to explore the historical context and strengthen the scene creation to create characteristic cultural and commercial streets, which make historical culture and modern fashion complement each other.
Located in CDHT, Tiexiang Temple Riverfront is an open, low-density characteristic cultural and commercial street, integrating tranquility and hustle and bustle, simplicity and prosperity. On one side are traditional buildings, and on the other are high-rise buildings; on one side are old-style teahouses, and on the other are artistic trends.
There are gardens and pools of antique beauty, well-arranged pavilions, and water banks, and streets and bridges. The water landscape attracts the attention of reporters immediately when entering Tiexiang Temple Riverfront.
Characteristic streets play an important role in improving urban quality, stimulating consumption vitality and promoting economic growth.
Tiexiang Temple Riverfront is built to provide better leisure and entertainment environment for citizens and tourists with unique spatial experience and multi-dimensional planning.
The Chengdu Municipal People's Government highlighted the advantages of industrial characteristics, regional characteristics and cultural characteristics, and combined the space carrying capacity with the improvement of business form.
At the same time, the government has explored the social forces to build, operate and share mechanism, guided enterprises and merchants to carry out self-renovation and upgrading of business forms, integrated the usable space of the district, and guided the cultivation of new business forms such as cultural and tourism consumption, urban industry, community business and life service.
Editor: Gao Han