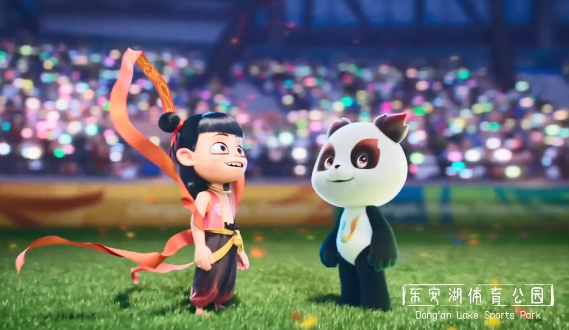 Photo/Screenshot of Journey to the City
About 5 months before the opening of the Chengdu 2021 FISU World University Games, Journey to the City was released. 
The 3D animated video features Rongbao, the mascot of the Games, and Ne Zha, the main figure of a popular Chinese animation movie. In the video, they are inviting the whole world to celebrate the Lantern Festival, a Chinese traditional festival. 
Journey to the City, inspired by the Chinese traditional mythology represented by Ne Zha and the traditional culture represented by giant pandas, shows the unique charm of Chinese culture, the vitality of youth and the passion for sports.
In this animation, the protagonists Ne Zha and Rongbao started their journey in Chengdu: competing in front of the Mount Qingcheng, rowing in the Minjiang River and dueling at the Jinsha Site Museum. 
They display the beauty of the sports and the nature. In addition, face-changing of Sichuan Opera and traditional snack San Da Pao, the two Chinese intangible cultural heritages, highlight the cultural charm of the city. 
As the nearest metropolis to the habitat of wild giant pandas, Chengdu is acclaimed as the hometown of giant pandas due to its high-quality ecological environment.
When the Beijing 2022 Winter Olympics concluded in February 2022, Rongbao, the panda from Chengdu, picked up the baton from Bing Dwen Dwen to tell the globe the story of China through sports and friendship. 
The image of "Rongbao" represents the brave spirit of the people of Bashu. In the animated film, it never retreats no matter what difficulties it encounters, which is exactly the spirit and quality of young people. 
Another protagonist of the story, Ne Zha, is also famous for his personality and creativity. In the fantastic scenery created by 3D special effects, the two characters connect the world with love and sprint towards the future in the process of seeking progress and development.
The Chengdu 2021 FISU World University Games will be held from 28 July to 8 August.
Editor: Lan Suying