The heritage luxury brands that seem to be inheriting the classics are actually the most eager to embrace new stories. 
Kering, the owner of Gucci, Balenciaga and Saint Laurent, wants to be a "pioneer" in Web3.0.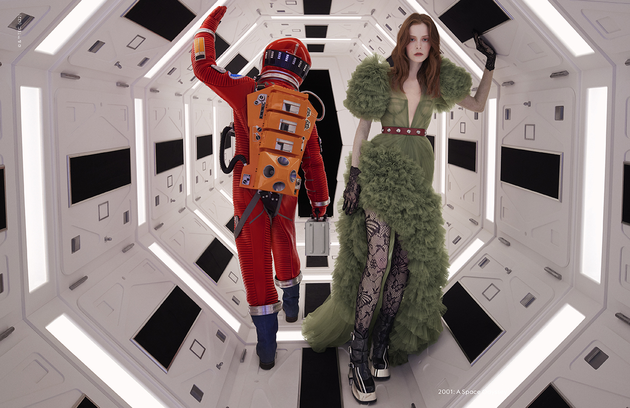 Photo/provided by Gucci
A year ago, most of more than 350 employees under Grégory Boutté (hereinafter referred to as Grégory) moved from Kering's headquarters at 40, rue de Sèvres in Paris to the Group's hub for digital research and innovation – a bright, spacious building just nearby, in the 7th arrondissement, providing digital solutions for Kering's Houses such as Gucci, Saint Laurent, Bottega Veneta and Balenciaga.
"Gucci was one of the first brands in the luxury industry to get involved in NFTs," said Grégory Boutté, Chief Client and Digital Officer of Kering, one of the 12 top executives of Kering's Executive Committee, to National Business Daily (NBD), "We will meet new and existing customers in the metaverse with Web3.0."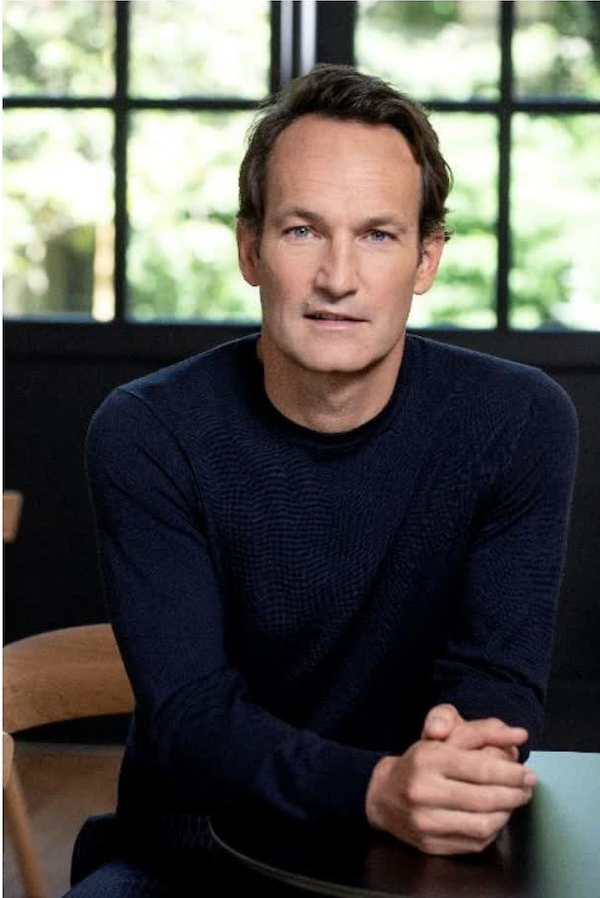 Grégory Boutté
A virtual Gucci bag could cost more than a real one?
In a virtual experience, a personalized image means everything.
Grégory sees video games as the first scene to have emerged from the metaverse race in the luxury sector.
"With more than 2.5 billion players worldwide, these virtual worlds will be increasingly integrated into our lives. Then, the transition from Web2.0 to Web3.0 seems to be more gradual, but some evolution is already happening," said Grégory. 
In September 2021, Kering's brand Balenciaga partnered with the game Fortnite to create virtual costumes for some of the game's most popular characters. Unlike the real world, players can wear Balenciaga's "authentic skin" in the game for $8.
Another Kering brand Gucci has also teamed up with gaming platform Roblox to launch the virtual "Gucci Garden" and "Gucci Town". A Gucci pop-up store was also opened in Roblox, together with a digital version of the Gucci Dionysus Bag that was launched in the shopping space and reportedly sold for $4,100, making it more expensive than the $3,400 price of the real physical bag.
Through the metaverse, "A new shared language of creativity can be built between the players, clients, and the House," said Grégory. "To test and learn, we want to experiment with new models that could transform our sector and shape tomorrow's Luxury. Even if it is still early days, entering the metaverse gives us real know-how about this new trend, as we want to be well positioned and ready when it reaches scale."
Thus, educating Kering's employees to "enter" into the metaverse is also Grégory's KPI.
"Along with our innovation roadmap for Kering, one of my missions is also to educate the Group's 42,000 employees. An example of a recent initiative took the form of an internal video game called the NFT Serious Game, designed to familiarize employees outside of the digital team with the metaverse. Thousands of Kering staff members signed up on Discord to participate in the game, which spanned 13 levels."
Who is paying for NFTs?
At 101 years old, Gucci is one of the global luxury brands and a "big contributor" to Kering's revenue. According to Kering's first-half results for 2022 released on July 27, Gucci's sales increased by 15% year-on-year to €5.173 billion, accounting for nearly 60% of the Group's total revenue. As a major brand of Kering, Gucci opens the door to the metaverse through the cross-over with games, artworks and so on.
Among them, the one that has attracted the most attention is the 10 exclusive pieces of the SuperGucci NFT collection launched by Gucci in collaboration with toy brand Superplastic, which is a sign of the brand officially entering the metaverse. To date, one of Gucci's most expensive NFT products is the first NFT film, launched to celebrate the brand's 100th anniversary. The starting bid for the NFT began at $20,000 (about RMB 120,000) at Christie's and it eventually sold for $25,000 (about RMB 159,300).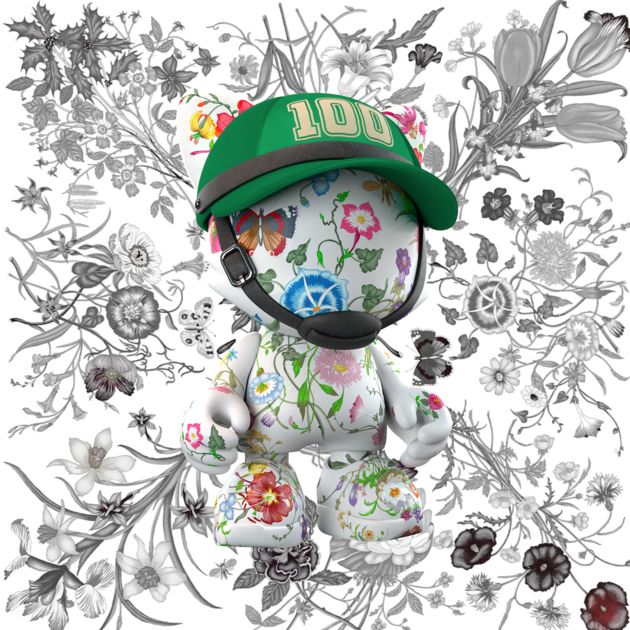 credit: Supergucci NFT by Gucci & Superplastic
In addition to the NFTs, Gucci launched a pair of virtual sneakers priced at $12.99. After purchasing the sneakers, consumers can use them in the Gucci app and on certain social media platforms, and can also try them on in the gaming platform Roblox, showcasing their sneakers in a variety of virtual occasions. At the same time, Gucci collaborated with the gaming platform to offer exclusive costumes and create special tournaments. Players can wear Gucci sneakers and fashion items through virtual dress-ups.
Morgan Stanley's research points out that the metaverse may take years to build, but for luxury companies, social gaming and NFTs in the metaverse present two opportunities to get closer to consumers. Other platforms, such as Fortnite and Roblox's digital marketplace, have given us a sign of purchases in the metaverse. Deals are trending upward and could add $10 - $20 billion in value to the total addressable market for luxury NFTs.
Kering is the first Luxury group to set up a dedicated team to expand its presence in the metaverse. "We have created at Group level a team fully dedicated to Web3.0 and the metaverse." Grégory, the team leader, told NBD that the digital team, which oversees topics spanning from e-commerce to new businesses, has more than 350 people. "The goal of the Kering Innovation team is to test ideas and to support our Houses in their projects in order to deploy best practices at a larger scale."
"In addition to the dedicated team at Group level, both Gucci and Balenciaga have their teams exploring new areas of opportunity, including the metaverse," said Grégory. "Over the past months, other than multiple NFT drops and collaborations on video games, the teams also explored the buying of virtual lands, aiming to build brand awareness with upcoming generations of luxury shoppers. We want to create credibility and community before anything else."
When the luxury industry benefits from digitalization
According to Morgan Stanley's research, luxury companies have an opportunity to sell virtual goods in the metaverse, and by 2030, the market size could be as large as €50 billion (or $57 billion, over RMB 393.4 billion), which is expected to lift the revenues of luxury companies by more than 10%, and industry earnings before interest and tax by 25%.
The metaverse is a whole new form of digitalization. "The strength of digital tech is that it can deliver experiences that would otherwise be impossible to create," Grégory told NBD. "Virtual experiences will become more immersive and interconnected in the future."
Kering has already gained some benefits thanks to digitalization. NBD reviewed Kering's financial reports over the years and found that its online sales have grown rapidly, especially since the pandemic in 2020. Online sales doubled in two years, accounting for 15% of the Group's total retail sales by the 2021 financial year.
"China is for sure a main market for Kering and is a major digital inspiration," Grégory told NBD that in China, Kering has always tried to be at the forefront of digitalization within the luxury sector, and it wants to stay ahead.
While many luxury companies are keeping a distance from digitalization, Gucci has developed a digital strategy exclusive to China. "It had its own official WeChat account as early as 2011, also a first in our sector." Other than that, Grégory said that the Houses have their own collaborations on Red, Weibo, TikTok, WeChat stores and mini-programs. Grégory is no stranger to reciting the names of these Chinese online platforms in quick succession.
Based on the reliance on digitalization, Grégory believes that once the metaverse becomes a reality, it will inevitably bring about disruptive changes to various links in the luxury industry chain, such as creative design, production, and sales and distribution. "We have already learnt some key lessons about Web3.0 and the NFT space: from 3-D prototyping to integration of NFT in our systems or how to animate a community on Discord."
"Digital technology has great potential in the Luxury sector, which can benefit clients, sales teams, and Houses. For Kering, digital is a means rather than an end." Grégory told NBD that "the success of Kering's Houses is rooted in their creativity, the authenticity of their narratives, and the excellence of their know-how. Luxury is about offering fabulous products, which then lead to an outstanding purchasing experience. Our aim now is to further improve these experiences. The strength of digital tech is that it can deliver experiences that would otherwise be impossible to create, but a century-old brand is all about 'innovation'."
Towards the end of the interview, Grégory told NBD that Kering also partners with Chinese startups in the consumer goods and retail sectors. "In partnership with Cathay Fund, we have created the Cathay Consumer Co-creation Fund. It focuses on investing and incubating early-stage Chinese companies with high-growth potential in the consumer goods and retail sectors. We are convinced that interacting with these Chinese startups is a fantastic opportunity to better understand the consumer trends of tomorrow."
Email: tanyuhan@nbd.com.cn
Editor: Tan Yuhan