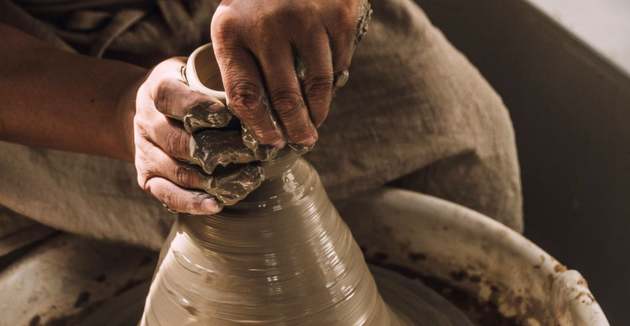 Photo/Shetuwang
Ceramic bottles and jars fill craftsman You Guangming's studio, spilling out the door and onto the roadside. The flowerpots he uses are bad items he has made.
You, 63, is from a small village in the city of Gongyi, central China's Henan Province. Formerly known as Gongxian County, the city is a base for ancient kilns that fired the famous tri-colored glazed pottery of the Tang Dynasty (618-907).
With a studio in the village, You reproduces famous local ceramics.
"I hope locals will use the delicate earthenware that was once exclusively for royal and noble families," he said.
Located at the intersection of the Yellow River and the man-made Grand Canal, Gongxian kilns originated in the Sui Dynasty (581-618) and their popularity peaked in the Tang Dynasty. Porcelain fired in the kilns was shipped to Central Asia and Europe via the ancient Silk Road, and to Southeast Asia, Africa and other areas via the Maritime Silk Road, winning global fame, said Ren Wei, head of the cultural heritage administration of the provincial capital Zhengzhou.
You has known of Tang tri-colored pottery since childhood, but he did not know his hometown was one of its production bases until the age of 13.
"The glory of my hometown made me proud but also sad. How could the beautiful art fail to be passed down?" said You, who has long dreamed of reviving the porcelain for modern use.
When he was in high school in the 1970s, You found a part-time job loading and transporting kaolin for a mine, but he didn't know the white clay was an important raw material for ceramics at the time.
You once saw a batch of earthenware at a local ceramics plant and became interested in a particular drinking vessel.
"It was decorated with the story of the Monkey King," You recalled. He begged the craftsman to make one for him but instead received a scolding.
"He said all the items would be exported and not even the waste products were allowed to be taken out of the plant," said You.
The episode left him more determined to produce porcelain by himself so that ordinary families could have access to them.
In 1978, he bought his first tractor for his transportation business. A non-local ceramics plant had hired him to deliver kaolin to a train station. It was then that he realized just how precious the white clay was.
He traveled hundreds of miles to visit the plant so that he could find out how the clay was turned into pottery. At the plant, he was gifted three boxes of tiles decorated with the Temple of Heaven, a tourist attraction in Beijing.
"I fastened them to the stove one by one, wiping them from time to time," he said.
After he had made enough money from his logistics business, You spent three years collecting documents, visiting museums and learning from pottery masters at kilns before establishing his ceramics studio in 2013.
A whiteware figurine and tri-colored horse were among the first items he reproduced. Once they were completed, he brought them to Sun Xinmin, then head of the Henan Provincial Institute of Cultural Heritage and Archaeology.
"It's a big progress to have someone engaged in passing on the Gongxian kiln tradition, no matter if the works are good or bad," You remembers being told, saying the words had greatly inspired him.
To date, You has fired more than 100 ancient earthenware replicas, and his studio has expanded from five employees to more than 20.
You's wife finds it difficult to support him as his studio, having cost him more than 10 million yuan (about 1.5 million U.S. dollars), has not been profitable.
"I just want to reproduce more works that resemble the ancient styles and have more people discover the beauty and wisdom of our ancestors," he said.
Email: gaohan@nbd.com.cn
Editor: Gao Han