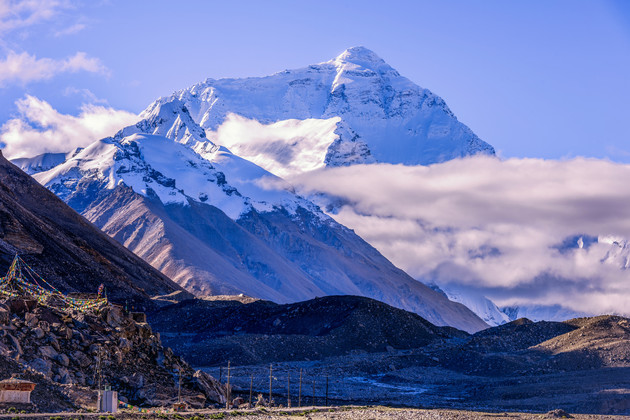 Photo/Shetuwang
57-year-old Tibetan herdsman Gesang owns a house with the most unique of mountain views. On sunny days, the top of Mount Qomolangma, the world's highest peak, is framed in his doorway like a wooden picture on his wall.
"Mount Qomolangma? That's it," Gesang pointed at the peak to the assembled journalists. Then he continued to calculate his village's income last year - he is now a member of the village committee.
"I've been up there," he added.
The legend at the foot of Mount Qomolangma
Gesang lives in Zangpu village in Zhaxizong town of Tibet. It is one of the closest administrative villages in China to Mount Qomolangma, with an average altitude of 5,000 meters. Gesang has lived in this highland pasture for decades.
It is a legend to many that an untrained nomad has climbed atop Mount Qomolangma.
"I've heard of this man but never seen him myself. Is there such a man?" said Solang, an official of the Mountaineering Association of Tibet Autonomous Region.
According to Solang, multiple qualifications are required to climb up Mount Qomolangma from the north slope in China. Applicants must be led by a professional guide and have climbed at least one snow-capped mountain more than eight kilometers above sea level.
"The north slope of Mount Qomolangma is definitely not open to people with such qualifications," Solang said.
But Gesang's Qomolangma certificate clearly states that he reached the summit in 2001.
At that time, Qomolangma expedition has been commercialized, but the mode of operation was very different from that of today. As the cradle of high-altitude mountain guides in China, the Himalayan Mountaineering Guide School of Lhasa (formerly Tibet Mountaineering School) has been established just two years previously. The local guide team and the management of mountaineering were still in their infancy.
Moreover, the guiding job on the north slope was completely controlled by foreign companies.
Gesang said he had reached the summit with a team of foreign nationals led by New Zealander Russell Reginald Brice.
Brice organized commercial expeditions to Mount Qomolangma every year between 1996 and 2007. Many of Tibet's first commercial guides have been interns in his team.
In 1997, Gesang began to serve Russell's team, transporting supplies with his own yaks like many of his fellow countrymen. In 2001, the company chose Gesang as the temporary porter to move supplies to the summit.
"Probably because I was in good health," Gesang said. Normally it takes two days to transport goods from the base camp (5,200 meters) to the advance camp (6,500 meters), but he only needed five to six hours. He also picked up quickly from the Tibetan guides how to walk on crampons on the icy paths above 6,500 meters.
Gesang felt a sense of pride and confidence since no ordinary villagers had ever had a chance to make a summit attempt. But he admitted that he started to have regrets as the journey began.
"I could barely stand in the gale after reaching 7,000 meters," Gesang said. On the day of the summit, when they were passing the "Second Step" at an altitude of around 8,600 meters, a client even urinated in fear on a near-vertical rock.
"My legs were weak, too. I grasped the rope and was afraid to look down," Gesang said he had been thinking of his wife and children, thinking that he really "shouldn't have come!"
Fortunately, he reached the top after dawn. Standing at the summit, he saw "the clouds below are flat and wide, stretching far away." He was so joyful, more because he was finally "going home".
Back to the mountain
Some villagers said Gesang is awesome, while others thought him crazy. He still went to work on Mount Qomolangma the following year. People knew that he had been to the top, but he never became a star. The Himalayas have not been short of legends of farmers and herdsman turning into mountaineers, and the Sherpas from Nepal had long made their mark.
Gesang spent ten years with Russell's team. In 2008, Russell moved to the south slope on the Nepalese side.
That same year, the Beijing Olympic torch made its way to the top of Mount Qomolangma. By escorting the torch to the summit, the Tibetan guides trained themselves to build their own commercial climbing model.
Afterwards, they took over the annual road-rope laying task at an altitude of more than 6,500 meters, which marks that their technical skills have won the trust of international teams and that they are increasingly dominating the north slope climbing season.
But with increasingly strict mountaineering regulations, ordinary villagers are only allowed to travel up to 6,500 meters to transport supplies and clean up trash, earning money in much safer ways.
After 2008, Gesang went back to being a herdsman in the pasture, year in and year out. In 2018, he was elected to the village committee, giving him more time to stay in the village. Each year around April or May, the villagers would still help mountaineering teams transport supplies with their yaks. He gave this chance to his son.
It was not until this year, when temporary workers were needed to build 5G network in conjunction with Qomolangma's elevation measurements, that Gesang returned to the mountain.
"My health is failing. I don't go to the mountains much now," Gesang said. His younger son later went to Tibet Mountaineering School. Gesang was a bit envious, but he said "different periods feature different ways of living. It's fine the way it is now."
The meaning of climbing
Almost every Qomolangma conqueror has been asked what it means to climb the mountain.
"I am happy to make it. It proves that I am in good health," Gesang always gives this answer.
"Why climbing?" This is the ultimate question in the circle of mountaineering. It is hard to say if Gesang has not pondered it over, or if he has thought it simply and clearly.
"I guess some people want to be famous. But I'm just curious. I want to see what's up there," He said. "And I've seen it now."
In the end, a journalist wanted to see a picture of Gesang at the summit. He searched for a long time but could not find it. "Maybe I lost it while moving," he smiled and pulled out a suit of down jacket from the room, which he said was given to him by Russell's team that year.
"You've kept it as a souvenir all the time?" asked the journalist.
"Sort of. The jacket is warm, suitable for blustery winters on the pasture," Gesang said. 
Editor: Gao Han