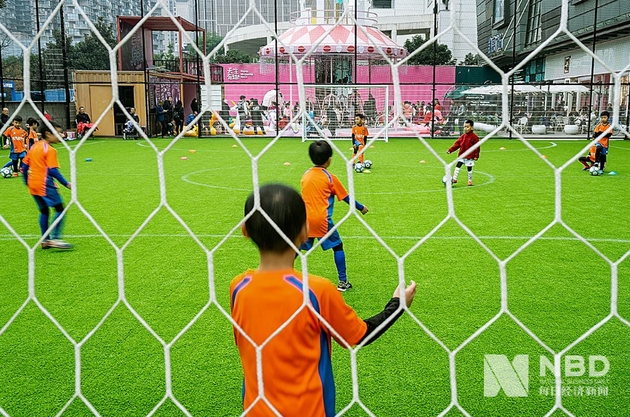 File photo/Lan Suying (NBD)
A group of boys proudly competed in a closely contested football game. They seemed no different to other students, except for the hearing devices attached to their ears.
All the players are students of Baiyin Special Education School in Northwest China's Gansu Province. With classes gradually resuming as the COVID-19 pandemic eases in the country, these hearing-impaired youngsters enjoyed their first football practice since mid-June.
After having their temperatures taken, a whistle from a teacher signaled for the game to begin. Tian Wenhai, a tall eighth grader, gestured to his teammates to rush to the penalty area, who assisted him in scoring a goal. The team celebrates with high-fives all round.
Tian Wenhai gestured that he has suffered from congenital hearing loss since birth. He's had to learn to communicate with people by reading lips and sign language.
In 2016, Tian joined an after-school football class and was soon captured by the sport. Football has brought him not only happiness, but also made him a lot of friends at school.
Executing the tactics and strategies of the coach is a key factor to winning, but in a silent world, this can prove to be extremely challenging.
"Soft fire makes sweet malt," said Tian's coach Ma Zhongying, who repeatedly demonstrated every technical action and tactic so that his players could catch up.
Ma also invited players from local amateur football clubs to play with the boys during their daily training to improve their skills. He has been the coach of the five-a-side football team for hearing-impaired teenagers since 2017, just one year into the programs lifespan.
"Through after-school football class, we encouraged hearing-impaired children to play together," Ma said.
Last summer, at the 10th National Games for Persons with Disabilities and the 7th Special Olympics Games, Ma led the team as they represented Gansu province and took third place in the five-a-side tournament for the deaf, and also took home the Sportsmanship Award.
Tian was a member of that team. Through all kinds of competitions and challenges, Ma was pleased to see that players such as Tian had grown in confidence.
"Football compensates for the psychological and physiological defects of hearing-impaired children. It cultivates their sense of teamwork and builds excellent character," Ma said.
Wang Pu, the school's principal, said that the football team has trained over 100 hearing-impaired teenagers.
"Special education is a kind of education in which people can influence each other with good character," Wang said.
After the football match, Tian gestured to his coach with a smile.
"He said 'thank you,' and that he is willing to play for the rest of his life because football is already of part of that," Ma interpreted. 
Email: gaohan@nbd.com.cn
Editor: Gao Han