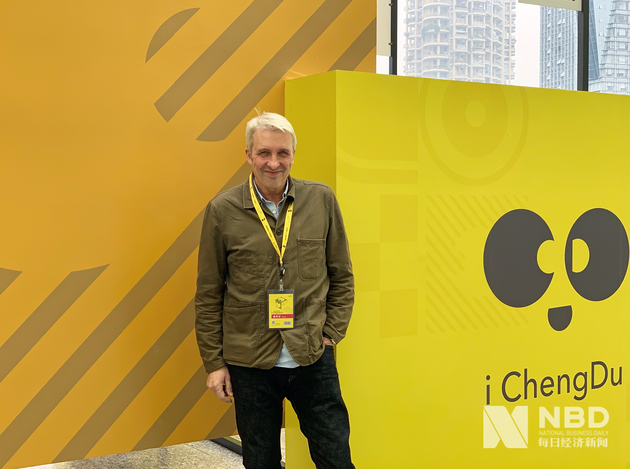 Kari Korkman [Photo/Yu Peiying (NBD)]
Nov. 8 (NBD) -- With a blast of cold air into the China's southwestern provincial capital, the 2019 Chengdu Creativity & Design Week kicked off on Friday as scheduled.
The annual event gathered big names in the world of design, including founder of Helsinki Design Week Kari Korkman, iF CEO Ralph Wiegmann, co-founder of Berlin Design Week Alexandra Klatt, director of the Architectural Association Christopher Pierce.
"Finland is renowned as a design nation and I am committed to exporting my knowledge of how to create a design festival globally. I want to create the connection between Finland and China, and Chengdu wherein thoughts and ideas can be exchanged and interact," shared Kari Korkman in an interview with National Business Daily (NBD).
The Chengdu Creativity & Design Week which focuses on the innovation and creation of graceful and fashionable oriental life aesthetics has stepped into its sixth year, and Kari Korkman brought Helsinki design into the southwest China city for the first time.
Design festivals help promote new products
Back in the beginning of the 1990s, Korkman has been active in design in Helsinki through product development projects and launches and in 2001, this veteran producer started to think out of the box by curating design exhibitions and events to promote products.
"The idea in 2001 really changed my view about design events which is supposed to be focused. When I established Helsinki Design Week in 2005, I decided not to limit our attention to industrial design or interior design but create a multidisciplinary playground where designers from all design fields can communicate and create chemistry," recalled Korkman.
Convinced that exhibitions and events are advantageous approaches for producers or designers to promote products, Korkman transformed a single exhibition in 2001 to a design festival in 2005.
Korkman said to NBD that products promotion displays extraordinarily significance since the failure rate of new products in the market is high. 
Photo/Yu Peiying (NBD)
"As I know, there are half a million people who become designers every year in China and the number around the globe would be tremendous as predicted. So, it is challenging for designers to launch a new product, let alone be a prominent player in the marketplace, which drove me to curate the exhibition in 2001 and build it into a design festival wielding global influence during these years," said the founder.
It is roughly estimated that in 2018, Helsinki Design Week boasted 170,000 visitors and a turnover of one million Euros (1.1 million U.S. dollars). "Helsinki is a small market and that's why we want to export globally. As to visitors, we value the quality rather than the number. We set the goal to reach out to the right target and therefore, we have made a success that everyone in the field of design knows Helsinki Design Week now," remarked Korkman.
Design festivals fulfill social duties 
Besides displaying new works at an international arena, a design festival can also make a difference in terms of social responsibility.
"A design festival has as an outstanding position to raise important questions and I think it is our duty. In the festival, we have taken up issues such as sustainability and children learning," shared Korkman.
For instance, Korkman initiated Children's Design Week wherein various workshops offer ways to utilize recycled materials and encourage kids to find solutions for a more sustainable world. 
"Parents today may be worried about the impact of digitalization on their kids because kids may spend most of their waking hours on smart devices like iPad and laptops. However, children need opportunities to feel material, look at colors and create by their hands, because it is a very efficient method to develop children's way of thinking and creativity. That's basically what Children's Design Week is about," said Korkman to NBD.
In the past years, Helsinki Design Week has also been active in taking to concrete solutions in order to fight climate catastrophe. From tickets to wall structures, from cups to tablewares, the festival only use recycled or completely recyclable materials. 
Email: gaohan@nbd.com.cn
Editor: Gao Han