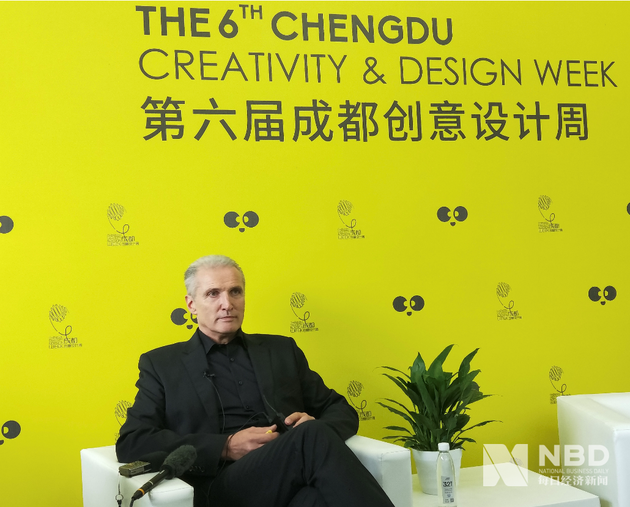 Ralph Wiegmann [Photo/Wen Qiao (NBD)]
Nov. 8 (NBD) -- "Good designs are focusing on human being's demands and are serving people through solving their problems," remarked Ralph Wiegmann, CEO of iF International Forum Design GmbH (iF), in an interview with National Business Daily (NBD).
Hannover, Germany-based iF, with its collection of products from this year's iF Design Award winners, attended the 2019 Chengdu Creativity and Design Week (CCDW) that kicked off on Friday in Chengdu, southwest China.
The four-day event welcomes participants and exhibitors from over 30 countries including Germany, Finland, Italy, the UK and the United States, demonstrating the most creative industry design projects and intellectual properties, as well as works brought by international institutions.
Human beings, first attention of designs
First introduced in 1953, the iF Design Award is one the world's most celebrated and valued design competitions. Receiving over 6,000 submissions from 70 countries every year, the award is aimed to identify and promote excellent designs, effect social changes through advanced design, and support young designers.
Having taken over the helm of iF for 24 years, Wiegmann is deeply engaged with the design industry. In his view, the best deigns should be human-centered.
"Creatives, first of all, try to support human beings and this is designers' first attention," Wiegmann said to NBD.
"Design is observing. Design means being curious, watching the environment carefully, and watching people's behavior carefully. Designers or architects, interior designers have the capability to focus on the needs of human beings. Then they try to analyze why it is better to follow that way or that direction instead of this direction to achieve their goals," added Wiegmann.
Wiegmann admitted that designs now are facing expanding and bigger challenges compared to the past.
"Designs are made to serve people by solving problems. Now we have many more new design challenges from different fields, for example, the city development. The challenges include how to serve the citizens, how to create public transportation systems that really do what they should do, and how to create and organize the waste system that really works properly in the way people needed today," explained Wiegmann to NBD.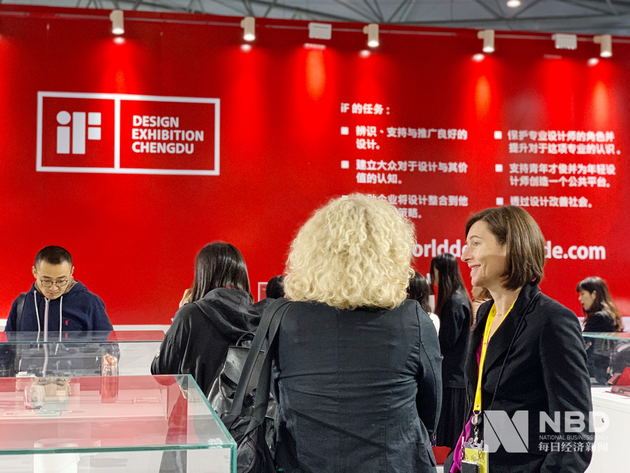 Photo/Yu Peiying (NBD)
China showcases incredible development in design 
Entering into the sixth year, the CCDW has become one of the famous Chengdu brands in China's cultural and creative industries.
As a part of CCDW, the third International Design Forum Chengdu organized by iF will be held on the second day of the design event. Taking on "Next" as the theme, the forum will invite leaders of design centers, organizations, curators and experts to share their insights into trends of the global design and lifestyle industry.
NBD found that one day before the opening of CCDW, iF opened its very first overseas design center in Chengdu to feature a variety of exhibitions for award-winning works from brands and offer office spaces for design studios and manufacturers. 
"It is the promising involvement in a city like Chengdu and a province like Sichuan, because we feel that there's so much potential regarding creative industry, and we also feel the industrial designers and architects here are keen on improving and increasing their capabilities and skills," Wiegmann said of the reason to choose Chengdu for the design center. "So we hope we can create new ideas and products, and new services as well. And one of the most important things we hope we can involve citizens in industry change."  
The expansion of Chengdu's design and creative sector miniatures the fast development of the design industry of the entire China. Wiegmann underscored the incredible speed of China to catch up with the forerunners in design. 
China is a young design country, and it's been only 25 years since design really emerged in the country. But China has the design power from five hundred thousand graduates majoring in design annually. Such number is unbelievable," Wiegmann said to NBD.
Email: gaohan@nbd.com.cn
Editor: Gao Han