Nov. 5 (NBD) – "Chengdu delivers a perfect mix of modern and classical beauty. I see many buildings are springing up as a sign of the vigor and vitality of the city," noted Winy Maas, co-founder of MVRDV, a Netherlands-based architecture and urban design practice, at the first Monocle Cities Series Conference held on Monday in southwest China's Chengdu.
The event gathered over 150 big names from fashion, architecture, design, retail and other domains to exchange thoughts on how to improve the quality of life.
Human-centric architecture improves quality of life 
A well-known architect and expert in urban design, Maas engaged in a number of large-scale urbanization projects in China before, including the one beside the Grand Canal in southeast China's Hangzhou.
The project rebuilt an old industrial area into an urban residential district. "Property developers, typically, would construct as many tower buildings as possible if they got the land, which is not good. I found currently many city planners in China sill adopt the traditional method," Maas told National Business Daily (NBD).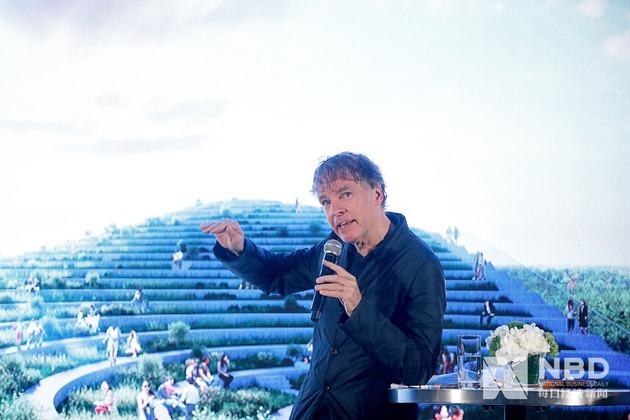 Winy Maas (Photo/Zhang Jian (NBD)]
According to Maas, architecture should be "sexier and more interesting" to convey the quintessence and charm of cities, so as to improve people's quality of life. He took an art design project in Rotterdam, the Netherlands for example. "We've made lots of blue roofs, enabling residents to freely create a space they like," he said.
In the eyes of Maas, small and compartmentalized architectural space should be used as much as possible to fit the design into the surrounding environment in a natural manner so as to better serve people. "This kind of architecture will be more human-oriented and thus people in the community will feel more connected," commented Maas.
Modern, ancient architectures add radiance to each other in Chengdu
Stepping on the land of Chengdu, one could be overwhelmed by the mixed charm of both ancient structures and modern complexes, from Du Fu Thatched Cottage to Tikoo Li, and from Green-Ram Abbey to the twin-towers in the Chengdu Financial City. The "Land of Abundance" has displayed to the world its high level of inclusiveness, diversity and quality of life. 
In recent years, the city has made increasing effort to protect traditional architectural heritages, and embraced modern architecture with different styles and concepts with an open mind. 
In the view of Maas, the essence of architectures is to meet the needs of different groups, and Chengdu's architectures can definitely achieve that goal in terms of cultural connotation, aesthetics and diversity.
NBD noticed that Chengdu has further enlarged the number of historical buildings for protection to 229 last month. 
While keeping an eye on the classical enchantment, Chengdu also places much emphasis on improving modern appeal by gathering brilliant ideas of architects from home and abroad. 
On October 29, an architecture design competition was launched in Chengdu, which is inviting architects around the globe to design standalone buildings for Jincheng Lake Park and create more livable spaces.
Email: lansuying@nbd.com.cn
Editor: Lan Suying