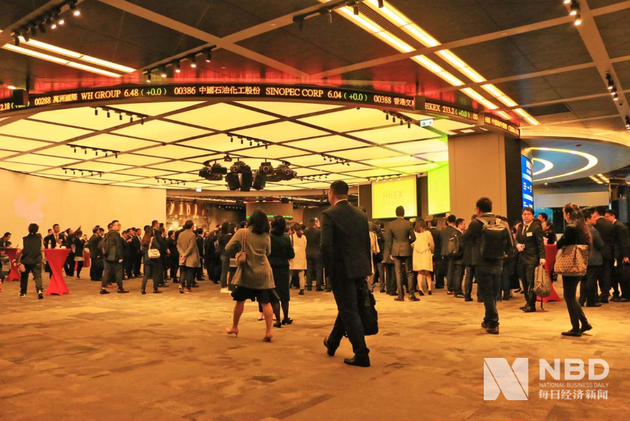 Hong Kong Stock Exchange [File photo/Zhang Yun (NBD)]
Aug. 20 (NBD) -- Hong Kong's stock market seems to have pressed on the brakes of initial public offering (IPO) recently.
National Business Daily (NBD) noticed that during the one-month period since July 18, the Hong Kong stock market has welcomed one new listing. In comparison, the H-share market had 84 newly-listed companies in the first six months of 2019, that is, 14 IPOs a month. The Hong Kong Stock Exchange (HKEX) even witnessed six firms debuted on the same day on June 28.
The only newcomer in the past month was Hands Form Holdings Ltd (01920.HK), a subcontractor of wet trades projects, which got listed on HKEX on August 16.
Shares of the company plummeted below its offering price 0.2 Hong Kong dollar on the first trading day and the closing price remained as low as 0.17 Hong Kong Dollars on Wednesday (August 21).
Besides, the largest global brewer Anheuser-Busch InBev pulled the plug on the Hong Kong listing plan for its Asia Pacific unit on July 13 due to dispute with underwriters about pricing. The listing was scheduled to complete on July 19 and would have been the world's biggest IPO of 2019.
This contrasts sharply with HKEX's exceptional performance for fundraising in 2018.
As the bourse's changed IPO rules began to allow companies with VIE structure and biotech firms generating no profits to go public in Hong Kong, the stock market gained global IPO crown last year, reporting 218 newly-listed stocks that raised 288 billion Hong Kong dollars (36.8 billion U.S. dollars) in total.
Ye Shangzhi, chief analyst at financial firm First Shanghai said to NBD that the decreasing number of Hong Kong IPOs was led by the change of market condition.
In the views of industry insiders, the small number of IPOs doesn't necessarily mean a lukewarm market for Hong Kong listings.
In an interview with NBD, a Hong Kong-based manager of brokerage businesses said that the investment banks in Hong Kong have never been short of projects, with a team typically having two in a year. The manager held the fact that there have been fewer new listing is mainly caused by the recent market condition. "When investment banks or companies mulling listing thought it was not a good market condition for IPO, they could wait and the listing timetable is flexible."
Though fewer stocks debuted in Hong Kong since last July, 22 companies have submitted applications for listing in the past one month, NBD noticed.
Email: gaohan@nbd.com.cn
Editor: Zhang Lingxiao