July 24 (NBD)— A successful creative city has to be the one that people enjoy traveling to, living in, and working in, Tom Campbell, Head of Creative Industries at the Knowledge Transfer Network (UK), remarked in an interview with National Business Daily (NBD) Tuesday at the second World Cultural Capitals Tianfu Symposium in southwest China's Chengdu. 
The three-day event brings together innovators, artists, researchers across all creative industries around the globe to discuss cultural development and urban opportunities.
Despite the thriving development, London's creative industries are still facing challenges ahead, according to industry experts. 
Mix of talents, educational strengths and internationalism makes London a success in creativity
Back in 1997, the Tony Blair government, following the advice of the father of the creative industry John Howkins, began to develop creative industries in the UK.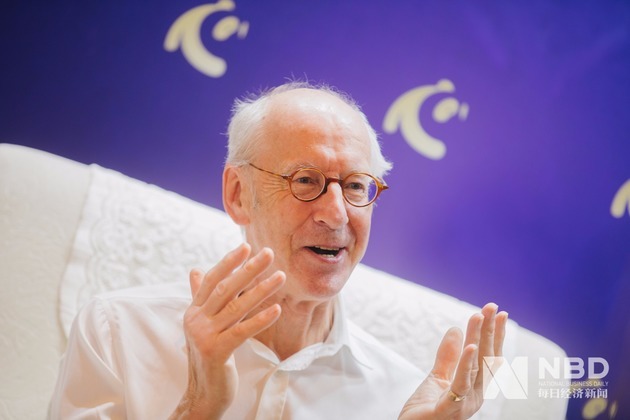 Father of the creative industry John Howkins [Photo/Zhang Jian (NBD)]
"Manufacturing in the UK was declining and services became very strong. The British economy and most industrial economies were looking for how to add values through ideas, through the personal creativity," recalled Howkins during the interview with NBD. "This is just what young people wanted to do. They did not want to work in the fields or in factories or work behind counters in shops. They wanted to use their brains."
Creative industries in the UK are now growing at a fast pace, with the potential to unlock more significant growth. One in eight UK enterprises are creative enterprises, and one in eleven jobs are in the creative economy, collectively generating 101.5-billion-pound gross value added (GVA) to the UK economy, according to London-based Creative Industries Federation. 
London, the capital of the country, has been the major player in boosting the UK's creative economy.
According to a 2017 report by GLA Economics, the GVA of the creative industries in the capital was estimated at 42 billion pounds in 2015, accounting for nearly half (47.4 percent) of the UK's total for the sector. Between 2009 and 2015, the average annual rate of growth for the GVA of London's creative industries was 5.6 percent, outperforming the 4.6 percent growth for the whole London economy, the report showed.
"London has a number of distinctive qualities which make it a genuine world center for creative industries," explained Campbell. "The combination of talents, educational strengths and internationalism have meant that London has been a real success in creative industries in the past 10 or 15 years."
Campbell believes approximately 30 universities in London, with many famous for design, creativity, fashion, and film production, provide a fantastic bedrock of creative talents. Prior to working for Knowledge Transfer Network (UK), Campbell was head of Creative Industries at the London Development Agency and worked closely with the Greater London Authority to help produce the Mayor's Cultural Strategy.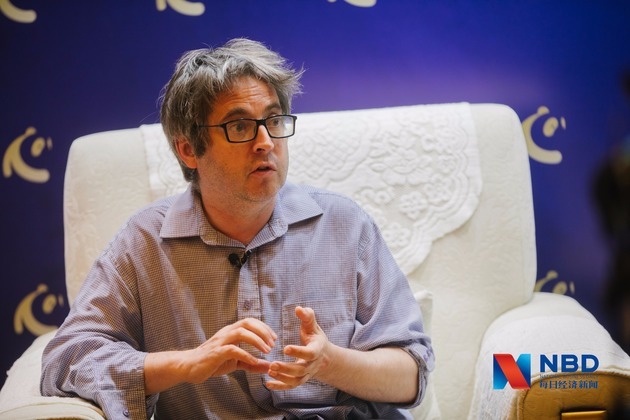 Tom Campbell, Head of Creative Industries at the Knowledge Transfer Network (UK) [Photo/Zhang Jian (NBD)]
"Every year, we have hundreds of thousands of new graduates in creative courses and they are likely to set up businesses in London," Campbell said to NBD. According to GLA Economics, over 1 in 4 (27.8 per cent) of jobs across the capital's creative economy are held by self-employed workers.
Challenges ahead for creativity sectors 
London, with all its diversity, is a hotbed for innovations, but efforts of reducing the cost of living are still required to maintain its appeal. Donald Hyslop, director of regeneration and community at art gallery Tate Modern, said to NBD, "I think that a lot of innovators will probably come from the regions where there's a less pressurised atmosphere and low rents."
In addition, London is facing challenges in channeling investment into incubation of giant tech firms. "We haven't created that kind of gigantic billion-dollar companies like Google, Amazon, and Facebook. The scene in London tends to be much smaller companies, lots of startups, lots of entrepreneurs, and lots of companies that then get bought up by American companies," commented Campbell.
The IT, software and computer services constitute one of the UK's nine creative industries groups. 
Campbell ascribed the absence of goliaths in London to the lack of capital. "I think the real reason for that is probably there is much more investment capital in North America than in London, in the UK. We've got talents. We've got some really interesting companies. We've got very strong technological expertise, but we haven't really been able to get the levels of investment," he explained.
Howkins echoed Campbell's statement, adding that investors' lack of risk-taking spirit is another reason. "We have a lot of entrepreneurs who build up small companies but find it difficult to grow into global champions. I think the reason behind this is the lack of what we call second or third round finance," he said. "London is the banking, financial services and legal services capital and money goes into these safe sectors rather than risky new startups."
"We do well at the mathematics but most do not have the entrepreneurial muscle that Silicon Valley or America has," Howkins further commented.
The lack of risk-taking spirit among investors will likely pose a stubborn challenge along the city's path to becoming a hub of tech giants in the long run. Moreover, Brexit will be a particular challenge on creative industries, because the city and even the country's internationalism and links to Europe have been very important in the strength of our creative industries, Campbell said.
"Many in the creative industries are very anxious about whether Brexit will impact on them," he told NBD. "The national government has got a very ambitious funding program and an industrial strategy for the creative industries which we did not have before. Whether that would be enough to compensate for the challenge in the shock of leaving the Europea Union is we don't know yet."
Email: lansuying@nbd.com.cn
Editor: Yu Peiying