July 17 (NBD) -- "Urban resilience is about a city's preparedness and the government support system for risks. Different cities need different vulnerability assessment structures," Rafael Tuts mentioned in an exclusive interview with National Business Daily (NBD) on Tuesday on the sidelines of the 3rd International High-level Forum on Sustainable Urban Development.
Tuts is director of Programme Division, United Nations Human Settlements Programmes.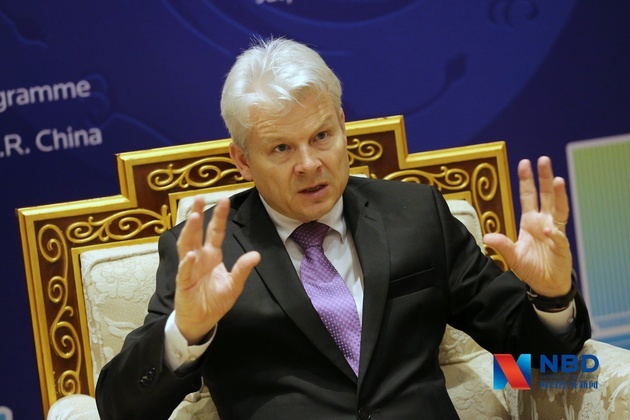 Rafael Tuts [Photo/Zhang Jian (NBD)]
Themed with "Dialogue with the World for Green Development", the 3-day forum, which kicked off in southwest China's Chengdu on Monday, welcomed participants from 22 international institutions and 48 enterprises in China and abroad to discuss issues including urban-rural integration, park city, green development and city resilience.
Global partnership fuels sustainable planning
Sustainable urban planning constitutes one of the crucial strategies for cities to achieve sustainable development. 
Under the Sustainable Development Goals (SDGs) that was agreed by the member states of the United Nations (UN) and came into effect in 2016, all cities should become more inclusive, more safe, more resilient, and more sustainable, for which planning is one very important component, said Tuts. He has been working on urban planning and design for more than 10 years.
"Over the past decades, we have been promoting sustainable planning practices, which means the planning is to make best use of the land and is well integrated, and means all the functions are mixed instead of separated and the rural and the urban areas are well connected," Tuts told NBD.
To increase efficiency, he held that urban planning should also include the citizens in the phase of consulting rather than only having the government alone deal with planning.
In Tuts' view, global collaboration also plays a significant role in helping cities better urban planning. A city, of course, cannot copy everything from the others, but can learn from them, and some practices will work if it adapts them to its own context, he addressed. "So partnerships globally are very important, not only partnerships between mayors, but also partnerships between cities and global organizations."
"I heard that a mayor, the former mayor of New York, was saying that all the innovations that were done in New York were 'stolen' from another city," Tuts joked. "It was always you learn something from another city, and that becomes then an innovation in your city." 
He took Singapore as a positive example in Asia for sustainable urban planning. "In the last 60 years, Singapore have really adapted their methods of planning. They have managed to create a world-class city with very high-quality services, lots of open space and so forth."
Photo/Zhang Jian (NBD)
Vulnerability assessment essential for resilient cities
With the greater concentration of people and assets in urban areas, cities are challenged to tackle an increasingly complex range of shocks and stresses that could affect their ability of sustainable growth.
Thus urban resilience is becoming a key capability for a city that aims to have positive adaptation to the changing conditions and higher continuity through shocks. A resilient city can quickly bounce back to a better situation than before, Tuts noted, adding that city resilience is about a city's preparedness and government support system for risks.
As managing disaster risk has long been a main focus of urban resilience, Tuts suggested that a city analyzes its own systems to see whether they are specifically vulnerable to certain risks and certain shocks. "It (the city) needs to analyze quickly to the whole territory. What are the potential hot spots, the potential neighborhoods, the potential sectors, the potential groups of people that are more vulnerable to that potential disaster? Different cities require different vulnerability assessments."
Resilience is now top on the priorities of many cities like Bonn of Germany. When discussing Bonn's efforts in enhancing anti-risk capabilities, Stefan Wagner, head of Department of International Affairs and Global Sustainability of Bonn, said, "The city predicts risks that it may face in the future by collecting data which will create different scenarios and maps."
Wagner also addressed the importance of interaction between the government and citizens.
The city of Bonn, on the one hand, is enhancing efforts to make citizens aware about changing situation about hazards that can occur in the future and on the other hand, always reaches out to the people that are particularly affected by natural disasters.
"For example, those who live closely to the river are invited for meetings in which the city planner would tell them about the flooding and how they can behave and protect themselves," Wagner said to NBD.
Email: lansuying@nbd.com.cn
Editor: Zhang Lingxiao