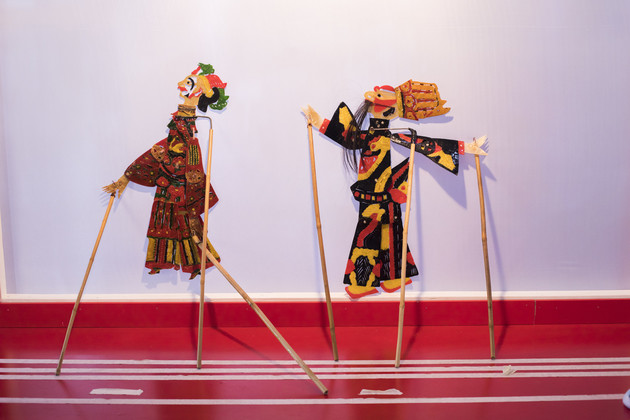 Photo/Shetuwang
A performer sings while manipulating a puppet and a light projects the vivid figure on a translucent screen. This is a professional shadow puppet show staged at the Wannan Shadow Play Museum in Xuancheng, east China's Anhui Province.
The museum, built by puppeteer He Zehua, is one of his endeavors to bring the traditional Chinese art from the shadow.
Shadow puppetry, dating back more than 2,000 years to the Han Dynasty (206 B.C.-220 A.D.), is an old folk art in China and has developed into various styles across the country.
Wannan style shadow play, originating in southern Anhui, has integrated local songs, flower drum opera, painting and carving, and can be traced back 400 years.
It is nicknamed "one-bundle" puppetry by locals as all the puppets and props can be collected in two wooden boxes, making it easily portable. It only requires four people to complete a performance.
He, 53, also the ninth generation inheritor of Wannan shadow play, learned the art from his grandfather in his teens and has been interested in it ever since.
He said as a child, he used to play with the puppets for hours. "The first step of shadow puppetry is to learn how to make the puppets," he said.
The craftsmanship includes eight procedures such as selecting the hide used to make the puppet, processing the hide with special chemicals, and drawing and carving the shadow figure out of the hide with more than 10 knives.
The secret of the carving is to move the hide along the knife blade with one hand while holding the knife motionless with the other, thus assuring the smoothness of the shape of puppets.
Despite its unique artistic charm, shadow puppetry is far from its former glory as fewer people are learning this ancient craft nowadays.
He's shadow play troupe only has four members and three of them are elderly people. The exception is a 15-year-old student, although his parents don't support him to make a living through this art, said He.
It is important to save this ancient performing art as it is gradually fading away, He said.
His museum, displaying over 10,000 shadow puppets from different decades collected by him, has served as a stage to introduce this ancient folk art to the public for free.
Besides, he has cooperated with the local government to design new figures and plays with modern themes such as environmental protection and electrical safety, in a move to expand the influence of it.
To extend the popularity of the art, He has put on various exhibitions and performances across the nation with his troupe. In 2008, the troupe went to Macao to showcase the carving technique of shadow play.
Now, he also teaches students to learn shadow puppetry and make puppets regularly in a local primary school, which has helped him to attract 20 new apprentices.
"Shadow puppetry is a kind of culture, which should not just sleep in a wooden box," said He.
It was not easy to stick to the art. He was once forced to sell some of his collections due to a lack of money. He also considered giving up, but it was hard for him to quit.
"There is a kind of unspeakable sense of belonging that inspires me to stick with this traditional art."
Email: gaohan@nbd.com.cn
Editor: Gao Han