May 23 (NBD) – "All financial services carry risks, and AI helps fintech firms identify and hedge against risks in the fields including financial transactions, insurance and microloans," remarked Alan Qi, vice president and chief data scientist at Jack Ma's Ant Financial, in an interview with National Business Daily on the sidelines of the GeekPark Rebuild 2019.
At the event held on Friday in southwest China's Chengdu, Qi gave a speech themed with "Depth and Warmth of Finance Intelligence", sharing his insights about AI in finance.
Qi held that the world has advanced to the age of intelligence and a real tech company should use the AI technology as the key tool to serve users safely and speedily.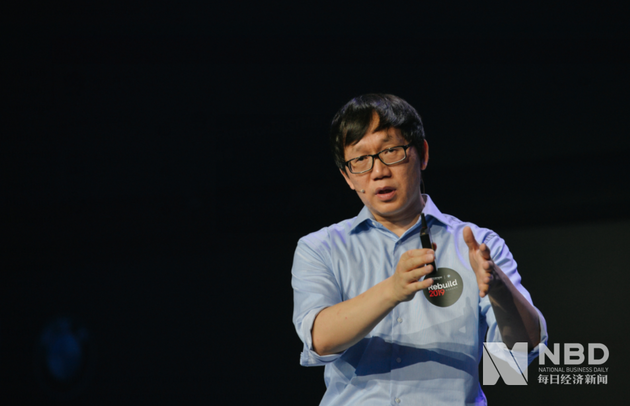 Alan Qi [Photo/Zhang Jian (NBD)]
The advanced technologies such as big data and AI give birth to Internet finance and fintech companies, and big players like Ant Financial are exploring further into those technologies in order to provide safe financial services.
A latest report on anti-fraud using AI toolsets showed that the number of loan frauds has been increasing in recent years, and Internet loans has become one of the most common scenario for new frauds.
Apart from online swindling, there has been a massive collapse of P2P lending platforms due to a combination of reasons, and borrower default is one of them.
Qi deemed the tie-up of AI and finance as a risk control solution for financial firms.
"In the financial market, AI detects the risks behind all behaviors, identifying fake transactions and preventing insurance fraud," said Qi, adding that controlling the delinquency rate of loans offered to micro- and small-enterprises is also a field that AI could deal with.
Qi said that adopting deep learning and attention model in data analysis, an AI system distinguishes illegal behaviors from normal ones through collecting statistics from the whole network and analyzing all transactions related to a person. Therefore, AI can be used to detect and prevent money laundering.
When talking about other services AI can improve, Qi noted that the technology is able to better user experience. "AI robots can interact with customers to resolve their issues, instead of human customer services," Qi mentioned.
Qi gave an example of robots working as customer service staff on Alibaba's Taobao platform. "During the Double 11 Shopping Festival, which used to be a stressful time for our customer service center every year, now the AI robots launched on Taobao solve most of complex questions from consumers."
"In addition, AI system helps financial enterprises find real demands of their customers for financial products, which is a key for user experience enhancement," Qi added.
Ant Financial, the financial arm of e-commerce conglomerate Alibaba Group, took a leadership in fintech sector and crowned the top 50 non-listed fintech companies list from KPMG last year.
In fact, not only Alibaba, but also its counterparts Tencent and Baidu make deployment in the finance intelligence field.
Baidu's Du Xiaoman Financial launched a fintech open platform last July and its anti-fraud system blocked nearly 30,000 clients with high-risks in 2018.
Tencent partnered with China Galaxy Securities to explore big data and AI technology in risk control, robo advisor and other domains.
Moreover, traditional financial institutions are groping for AI application as well. It is reported that China's five major state-owned banks and 12 joint-stock banks have provided smart customer service so far.
Email: gaohan@nbd.com.cn
Editor: Zhang Lingxiao