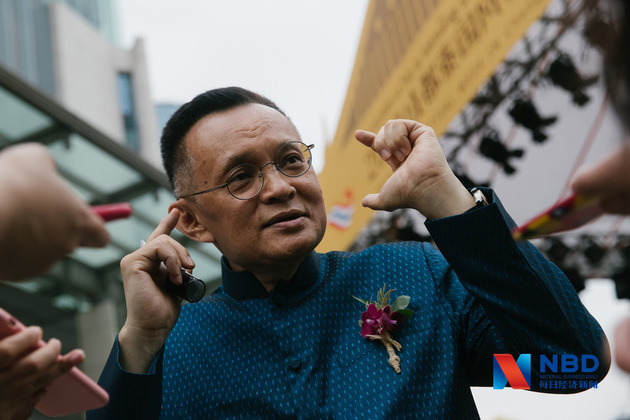 Mr. Vithit Paowattanasuk [Photo/Zhang Jian (NBD)]
May 17 (NBD) – "Thai-style hotpot, perfectly integrating two cultures, offers Chinese people with a taste of Thai food and Thai people a taste of Sichuan flavor," Mr. Vithit Paowattanasuk, Consul General of Thailand to Chengdu, commented in an interview with National Business Daily (NBD) at Thai Festival Week in Chengdu 2019.
With the theme of "A Bite of Thailand", the event was unveiled on May 15 as part of the Chengdu Panda International Food Festival. 76 enterprises from Thailand gathered together with featured products including fruits, snacks, skincare products and artifacts.
Speaking of the development of Thai food in Chengdu, Paowattanasuk showcased great confidence saying Chengdu will become the top choice for Chinese to enjoy Thai cuisines in China.
Gastronomy connects Chengdu and Thailand
Sichuan is currently home to over 120 Thai restaurants, and those serving Thai-style hotpot, which Paowattanasuk spoke highly of, are usually full of guests. 
"Among all Thai restaurants here, only two are owned by Thai while the rest are run by Chinese," Paowattanasuk noted. "After travelling around China, I found Thai restaurants in Chengdu are the most authentic, and their Chinese owners are passionate about Thai food."
Serving as the Consul General of Thailand to Chengdu, Paowattanasuk deems expanding the bilateral ties between Thailand and Chengdu as his responsibility.
When asked about the first impression of the southwestern city, Paowattanasuk said the fast economic growth is beyond his expectation. "More and more Thai people are coming to Chengdu and realizing that Chengdu has not only pandas but also rich opportunities," remarked Paowattanasuk.
"Chengdu was recognized as the City of Gastronomy by UNESCO, and there should be more diversified food options," Paowattanasuk told NBD. "We hope Thai food could be among Chengdu's attractions apart from pandas, Sichuan cuisine, profound history and scenic beauty."
In addition to promoting Thai cuisines in Chengdu, Paowattanasuk hopes to help Thai people better understand Sichuan and its delicacies.
"15 years ago, when I wanted to try Sichuan food in Thailand, I had to go to top Chinese restaurants," he recalled. "But now I can get Sichuan food on streets and lanes." 
Paowattanasuk also disclosed to NBD that they plan to introduce Sichuan's spicy food challenge to Thailand this November.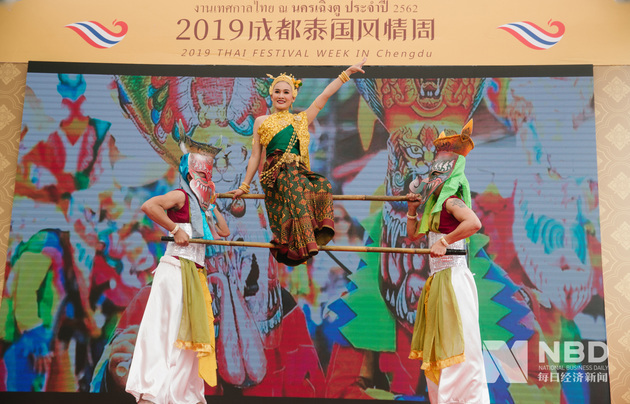 Photo/Zhang Jian (NBD)
Diversified cooperation highlighted
Thailand has been the top choice for outbound visits of Sichuan people for years. Data revealed in 2017, about 690,000 Sichuan tourists traveled to Thailand, with an average of nearly 60,000 visits to Thailand monthly. In 2018, people from Chengdu alone paid 564,600 visits to the country.
"Sichuan tourists are inclined to visit Bangkok and Pattaya. But there're also other characteristic cities and products in Thailand awaiting Chinese to enjoy," Paowattanasuk stressed at the event.
As a world-famous tourist destination with glorious gastronomy culture, Thailand is tendering its unique enchantment to Sichuan, and Sichuan is also showing its economic vigor to Thailand.
Last year, the import and export trade volume between Chengdu and Thailand reached 6.532 billion yuan (948.6 million U.S. dollars). At the Thailand-Chengdu Cooperation Week 2018, enterprises from the two sides signed 18 collaborative projects, covering smart manufacturing, health, autos, furniture, fresh food, education and culture and arts.
According to one of the merchants at the 2019 Thailand Festival Week in Chengdu, many of them are members of a cross-border e-commerce project initiated by Chiang Mai University. "People in the project help us vend products online and communicate with Chinese customers," the merchant said.
With financial support from the Thailand government, the project aims to promote featured products from Thailand to China, explained a person involved in the project.
Besides trade deals, educational communication is also spotlighted. 
"Chiang Mai University has already partnered with higher educational institutions like University of Electronic Science and Technology of China and East China University of Science and Technology," stated a source with the university. "Each year we send students to study in those universities and last year we also visited Shanghai big data center to learn advanced technologies in China."
Basic education is also a field of cooperation between Chengdu and Thailand. On April 22, 12 primary and secondary schools and kindergartens in Chengdu's Qingyang District teamed up with 12 counterparts in Bangkok to set up the Qingman Education League.
Email: lansuying@nbd.com.cn
Editor: Wen Qiao