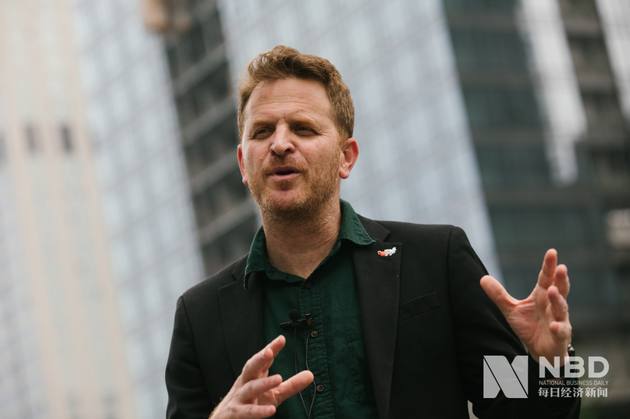 Ran Peleg, Consul General of Israel to Chengdu [Photo/Zhang Jian (NBD)]
May 9 (NBD) -- On May 17-19, a gourmet, tourism, and culture-themed exhibition dubbed "Next Stop, Israel!" will be held by Consulate General of Israel in southwest China's Chengdu.
Ran Peleg, Consul General of Israel to Chengdu, told National Business Daily (NBD) in an exclusive interview that it is the fine food that enhances his tie with Chengdu and helps improves his understanding of China and its culture. 
He hopes the upcoming exhibition could be a window for Chinese tourists to know more about Israel's food, culture and tourism industry. 
Cuisine to be bridge to boost tourism in Israel
From 2010 to 2014, Peleg paid multiple visits to Sichuan as the spokesperson of the Embassy of Israel in China.
He was attached to the abundant land because of food, via which his understanding of China and Chinese culture was also deepened. "Chengdu is my favorite city," Peleg said.
The leisurely lifestyle, rich cuisine and profound culture in Chengdu are highly attractive to Peleg. "Chengdu people are very much relaxed and open-minded," he expressed.
NBD found the "Next Stop, Israel!" exhibition will be the largest of its kind held by Israel in Chengdu so far and will present Israle's delicacy, culture and tourism. Peleg hopes the food festival could serve as a platform to enhance the mutual understanding of Chinese and Israli people.
NBD noticed in recent years, China's outbound tourism market has shown brisk demand. In August last year, Chengdu opened the direct flight to Tel Aviv. Israel also established a visa center in Chengdu, granting 10-year, multiple-entry visas to Chinese tourists.
According to the Ministry of Tourism in Israel, Israel saw Chinese visits to the country soar to 105,000 in 2018 from 47,000 in 2015.
"Israel is a destination that Chinese tourists haven't discovered yet. It has everything Chinese tourists want in a vacation - culture, history, beach of Tel Aviv, the lowest place in the world and the Dead Sea. Everything is no more than two-hour drive from the center of Israel," said Peleg, "I do hope more people, especially from this area, would come to Israel."
NBD observed the Ministry of Tourism in Israel is taking multiple measures to attract Chinese tourists, such as inviting well-known Chinese cooks to instruct local peers on making Chinese cuisines, training more Chinese-speaking tour guides, as well as providing Chinese demand to local tourism agencies.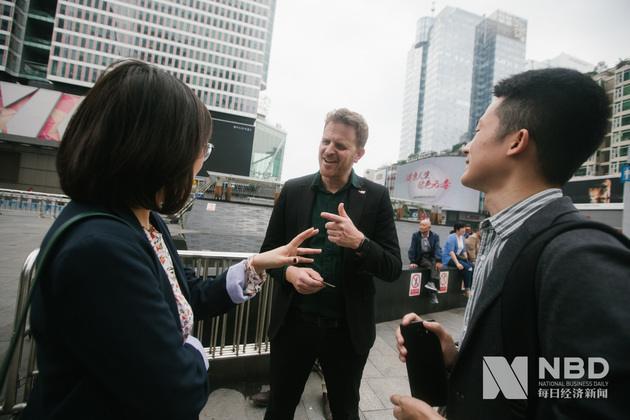 Photo/Zhang Jian (NBD)
Innovative collaboration with focus on healthcare 
China is one of the most important countries diplomatically for Israel, Peleg introduced to NBD. 
The country houses the second most consular offices and diplomats after the United States and Israel is the third largest partner following the United States and Europe, said he.
Now exchanges and cooperation between two states are developing at multiple levels and in an all-round way.
Peleg further emphasized the significance of Israel building tie-up with Chengdu.
"Chengdu is definitely one of the most developed areas, and it is the center of western China. Israel opened the new consulate general particularly in the city," he explained.
In 2017, China and Israel announced an innovative comprehensive partnership. The closer relation fuels innovative collaborations. With increasing investment and acquisition, more Chinese enterprises set up R&D centers in Israel.
As a former member of the China-Israel Joint Committee on Innovation Cooperation, Peleg believes rich possibilities of tie-ups between Israel and Sichuan.
"We try to implement down-to-earth projects in the province. For example, in the field of healthcare, Israel has cutting-edge technology, such as big data in healthcare and medical imaging technology," said Peleg.
"One of the focuses of innovative collaboration this year will be in the healthcare sector," he disclosed.
Last year, the Health Commission of Sichuan Province entered into an agreement with Clalit, Israel's largest health service organization, to encourage exchanges between Chinese and Israeli doctors. 
It is noteworthy that on May 14-16, medical teams from Sichuan will attend the 18th MIXiii-BIOMED Conference and Exhibition unveiled in Tel Aviv.
When asked about the goal for the tenure as consul general, Peleg said he would launch more joint projects leveraging Israel's strengths. So far, southwest China and Israel have conducted fruitful collaboration in scientific research, agriculture, education, culture and other fields.
Email: lansuying@nbd.com.cn
Editor: Wen Qiao