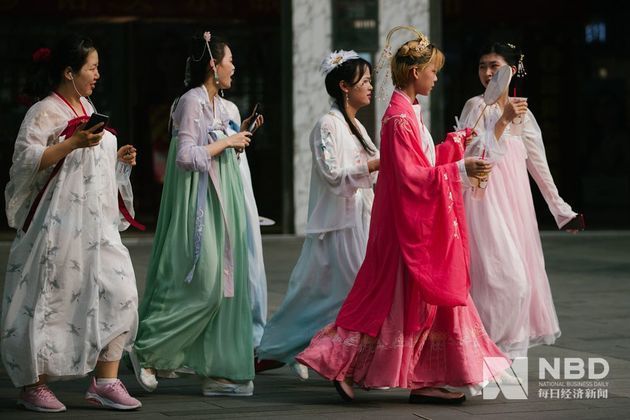 Hanfu enthusiats in southwest China's Chengdu [Photo/Zhang Jian (NBD)]
May 6 (NBD) – At Champagne Square, Southwest China's Chengdu, one could easily have the illusion that he/she has teleported to over a thousand years ago, as many flocked together in flowing gowns, billowing sleeves and elegant headwear.
With the growing craze for Hanfu, the traditional dress of China's Han people, the niche clothing market has already turned into a gigantic industry. 
Rise of traditional culture drives Hanfu revival 
According to Han-fu.com, as of the end of 2018, over 2 million consumers have once spent on Hanfu.
A report in 2018 showcased a whopping year-on-year increase of 92 percent in the number of Hanfu buyers, most of whom are from Chengdu.
Ye Qingfeng, a Hanfu zealot, settled in Chengdu a month ago. "Chengdu is home to Hanfu wearers which is why I came here," he explained.
Ye told National Business Daily (NBD) that he has joined over ten Hanfu-focused chat groups and vigorous members not only share views online but also organize diversified offline events.
The common fervor for Hanfu is partly promoted by the rejuvenation of traditional Chinese culture. 
In recent years, Chinese costume dramas, traditional culture-themed TV programs and animations have taken the nation by storm, giving highlight to the traditional culture.
As a traditional cultural symbol, Hanfu is gaining a foothold at the same time.
Some Hanfu fans told NBD that social platforms such as TikTok and Bilibili also play a vital role in promoting Hanfu as an online sensation.
On TikTok, short videos tagged with "Hanfu" amassed 10.81 billion views.
Chen Rui, president of Bilibili, noted the number of users covered by Chinese cultural contents on the platform has risen by over 20 times since 2012.
Last year, Bilibili launched the first Chinese National Costume Day and the live broadcast of the event drew 3.16 million online viewers, hitting a record high on the platform.
Additionally, governments' promotion of Hanfu for the purpose of simulating local tourism, such as Hanfu Cultural Festival in Xitang, an ancient town in Jiaxing city, east China's Zhejiang province, also pushes the revival of the traditional garment.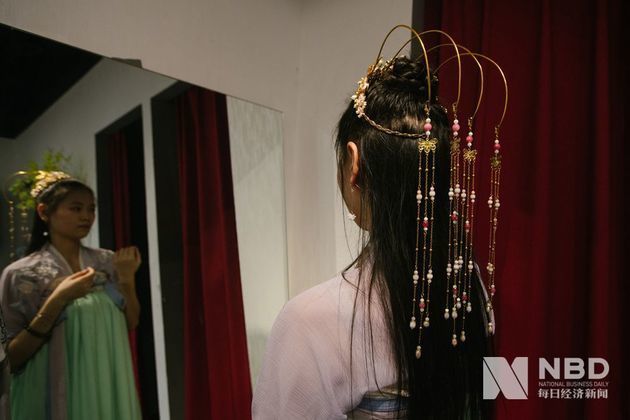 A Hanfu buyer is picking headwear. [Photo/Zhang Jian (NBD)]
Promising market triggered by Hanfu craze  
With more and more enthusiasts, Hanfu is becoming a new "Blue Ocean" in China's clothing market.
The Hanfu industry is estimated to surpass 1.087 billion yuan (161.4 million U.S. dollars) in market size last year, and this year the figure will keep rocketing up.
Currently, online platforms are a primary channel for the distribution of the traditional dress. In 2018, output values created by Hanfu sellers on Taobao accounted for 75 percent of the total last year.
"Most of the buyers are young people with a high repurchase rate," Hanfu shop owners at Champagne Square told NBD. They are willing to wait half a year for and hundreds of yuan on a gauzy gown or silk robe.
Riding a tailwind as the Hanfu industry is, it also encounters problems.
"The unexpectedly soaring demand and insufficient production capacity resulted in a supply shortage," said Lv Zhuer, founder of a famous Hanfu brand.
According to Lv, ordinary factories aren't familiar with the production of Hanfu and many of them are even unwilling to take Hanfu orders due to the small scale.
Lv Xiaowei, a diehard Hanfu supporter, echoed the view, saying there's a lack of cooperation between the upstream and downstream industrial chains.
How to protect intellectual property rights is another challenge faced by the industry.
"It costs a lot to create an original hit product but counterfeiters could easily make a fortune by copying the hit products," an original Hanfu vendor complained.
Counterfeits are not on par with original ones in quality, and more importantly, they couldn't fully reflect the traditional culture as some counterfeiters might change the design slightly to reduce the use of materials, Lv Xiaowei said. 
In her view, Hanfu is a style of clothing that carries forward the traditional Chinese culture, and the revivification of Hanfu requires the joint forces of all parties.
The rejuvenation could be achieved with the help of commercialization, by making Hanfu gradually a norm in daily life, observed Tian Zhaoyuan, deputy director of School of Social Development, East China Normal University. 
Lv Zhuer also called for more merchants to make foray into the sector as the Hanfu industry is promising enough and contains many different product lines including not only clothes but also accessories from tip to toe.
Email: lansuying@nbd.com.cn
Editor: Wen Qiao