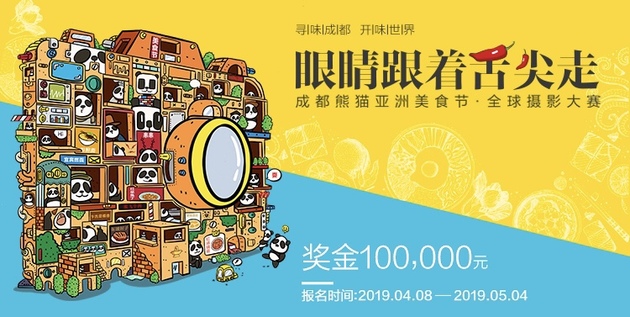 Apr. 22 (NBD) -- The Chengdu Panda Asian Food Festival - Global Photo Contest is currently calling for entries, with the deadline being May 4. 
The event is co-hosted by the Chengdu Federation of Literary and Art Circles, and organized by National Business Daily. Cooperative partners include Mepai, Tuchong and several other platforms. 
Featuring two categories - global delicacies and food culture, the contest offers a total of 100,000 yuan (14,917.6 U.S. dollars) in prize money, and 52 best-performing participants will be granted prizes. 
Everyone could be a photographer as long as you have a knack for discovering beauty. No matter where you are - China, Thailand, Singapore, Indonesia, Laos, Japan, South Korea, and etc. - please don't forget to shoot a picture. We're looking forward to fabulous photos of delicate food and things related to food, such as exquisite tableware and food culture. 
Through participating in the contest, you'll win eyeballs on your work and a credit for your portfolio in addition to a cash prize. 
For foreign people with an interest in the contest, you can contact us via 86-028-86660288 or spds@nbd.com.cn and one-on-one services will be offered to guide you through the entire application process.
Sample photo for the "global delicacies" category 

Sample photo for the "food culture" category 

Email: lansuying@nbd.com.cn
Editor: Lan Suying