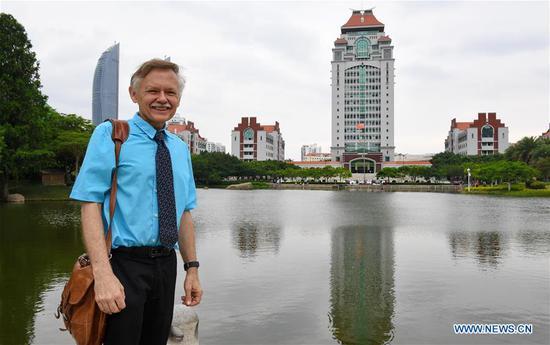 William Brown poses for a photo at Xiamen University (Photo/Xinhua)
A US professor who has been applauded by President Xi Jinping on his dedication of 30 years to the educational cause of China has recently received the top award of the university he worked for.
William N. Brown, 63, a United States professor at Xiamen University, Fujian province, received the Nanqiang Outstanding Contribution Award on Saturday.
He was the first foreigner as well as the youngest person to receive the honor since the university began offering the award in 2013. The average age of winners is 80.
In recent years, about four people each year who have greatly contributed to the university would get the honor, which comes with a reward of 200,000 yuan ($29,775) per recipient.
Brown, who began teaching within the university's MBA program in 1989, delivered his book Off the Wall: How We Fell for China and a letter to Xi earlier this year. Xi replied to him ahead of the Chinese Lunar New Year.
Email: gaohan@nbd.com.cn
Editor: Gao Han