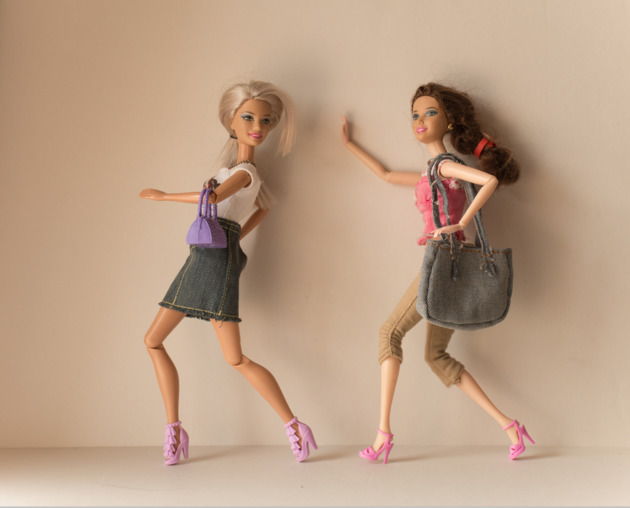 Photo/Shetuwang
Mar. 27 (NBD) -- American fashion doll Barbie has just welcomed its 60th birthday. However, in China, the maker of Barbie was not able to replicate the success it enjoyed in the U.S. even after more than 20 years of efforts.
Mattel opened its first flagship Barbie store - the House of Barbie - in China's Shanghai in 2009. It was a six-story building that covers an area of 3,500 square meters and sold over 1,600 related products. Mattel billed it as a unique shopping center for girls.
However, it was not very well-received. In 2010, sales target of the Barbie shop was lowered by at least 30 percent. Due to a continued lackluster business performance, it was closed after less than two years of operation. After the closure, Barbie dolls are mainly sold in doll stores such as Toys "R" Us.
High price might be the primary reason that led to the shutdown of the Barbie shop as Chinese parents were price-sensitive at that time.
A toy distributor in Beijing said, "A Barbie doll costs at least 69 yuan (10.3 U.S. dollars) and at most times costs around 200 yuan (29.8 U.S. dollars). In comparison, a much prettier doll (from other brands) only sells for 30 yuan (4.5 U.S. dollars). It is clear to tell which one sells better."
Obviously, Mattel made a mistake in the Chinese market. Although it has noticed the great demand of dolls there, it overlooked the fact that Chinese parents want their children (5-16 years old) to study rather than to play.
That's why educational toys always have a ready market in China. Fisher-Price, an educational toy brand, is the best seller among toys under Mattel in China. And currently, smart toys that Mattel is developing are also educational toys.
In addition, Barbie failed to become a cultural icon in China. It is simply an American consumption icon just like Coco Cola, McDonald's and KFC. The independent image of Barbie that its inventor Ruth Handler has created didn't win favor of Chinese consumers.
Actually, Mattel once launched a localized Barbie called "Ling" with black hair and in Chinese attire, but consumers believed that it was a Chinese girl in the eyes of Americans. To attract Chinese consumers, the company also made Barbie dolls based on the images of actresses Fan Bingbing and Guan Xiaotong, former female Chinese volleyball player Hui Ruoqi and ballet dancer Tan Yuanyuan. However, Mattel's market share in China still lags behind that of its rival Lego.
Moreover, the sexy appearance of Barbie is deemed as an "original sin" in China where sex education develops later than other countries. Barbie's curvy body and sexy clothes go too far for many moms. And a lot of parents refuse to buy Ken, Barbie's boyfriend, for their children as they cannot accept their children to change clothes for a naked doll boy.
Not only in China, Barbie is also losing ground in the U.S. and European countries. It is noticed that worldwide sales of Barbie dolls fell 20 percent from 2012 to 2014. And Mattel was replaced by Lego as the largest toy maker in the world in 2014.
Hasbro, another toy maker, made handsome profits through developing dolls based on Disney Princess characters. U.S. magazine Time said Mattel missed the opportunity to work with Disney and that would cost it 500 million U.S. dollars.
With the sales of Barbie declining, on the one hand, Mattel is developing smart toys, such as a holographic Barbie or a sound-controlled Barbie house. On the other hand, the company tries to develop movie IPs. Last year, it set up a movie department, trying to transform from a toy maker to an entertainment licensing company.
In the past years, Barbie stayed as a story-teller, while its rival Lego has developed movies to win the hearts of consumers.
Email: tanyuhan@nbd.com.cn
Editor: Tan Yuhan