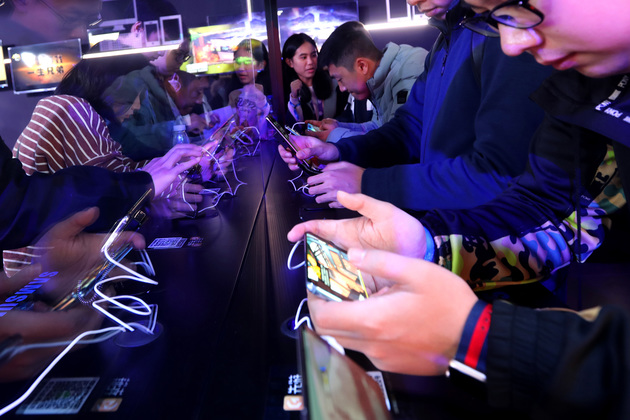 Phtoo/NBD
Mar. 14 (NBD) – China's online game team Invictus Gaming won the League of Legends World Championship in South Korea last November, and the record-breaking victory attracted outside attention into e-sports, with more and more people considering entering the sector.
Industry researcher Gamma Data forecasted the market of China's e-sports to be over 88 billion yuan (13.1 billion U.S. dollars) in 2018. Revenue from gaming, live streaming, and game competition combined account for 99.8 percent of the whole industry. 
The three segments are dominated by big players from home and abroad, leaving no space for newcomers.
Paid game-training companions, however, is expected to be the next growth point in e-sports. An insider with a platform that matches training partners to players said to 36kr, China's equivalent of TechCrunch, that the business can hopefully take 15 percent to 20 percent of the whole e-sports industry in a few years.
The phenomenon of game training partners started in 2014, and in five years, a number of start-ups have emerged. Bixin and Kaiheikeji, two leading platforms, have secured tens of millions U.S. dollars investment in early rounds of financing. 
Moreover, Internet giants made deployment in the new market as well. NetEase launched a partner training platform Heizhu Dianjing (Black Pig E-sports). Alibaba's e-commerce platform Taobao recently added a channel in its app that provides similar service.
Outside these mainstream platforms, some game streamers sell their game-training companion services in their streaming rooms.
The fees for online training partners range from 5 yuan to 99 yuan (75 cents to 14.8 U.S. dollars) per hour. Platforms usually take certain commission from the matches they facilitated. Bixin, for example, takes 10 percent.
Setting the price at 40 yuan (6.0 U.S. dollars) per hour, a training partner who works 8 hours a day can earn some 300 yuan (44.8 U.S. dollars) after commission, 36kr calculated. The figure falls far behind that of a fulltime game streamer, yet considering the higher price that skilled trainers could charge, the job remains attractive.
36kr contacted a number of training partners, and all of them are part-timers, playing with users on weekday evenings and weekends. However, there are also a considerable number of fulltime trainers, a group that could be a talent base for professional players and streamers who sit on the top of the e-sports industry.
Compared with those top players, training partners have limits in terms of gaming skills, streaming skills, time, or even chance and luck, a staff at Bixin told 36kr. Providing training to players could be a step that leads to deeper engagement in the e-sports industry.
Maoyouyo started her training partners career four years ago and won a huge fan base. Later she was recommended to an Internet celebrity agency and started an account on popular short video app TikTok. Within one and a half month, her account attracted 3 million fans, ranking No.8 on TikTok's in the gaming sector.
The matching platforms not only bring job opportunities to lesser players, but also retired professionals. Previously, professional players would opt for games that require less physical stamina like Texas hold'em after they left e-sports.
With the rise of live streaming platforms, many retired professionals chose streaming, but for lack of reputation or commenting skills, not everyone are suited for streaming. Practicing with rookies as partners give these game veterans a new option.
Email: limenglin@nbd.com.cn
Editor: Li Menglin