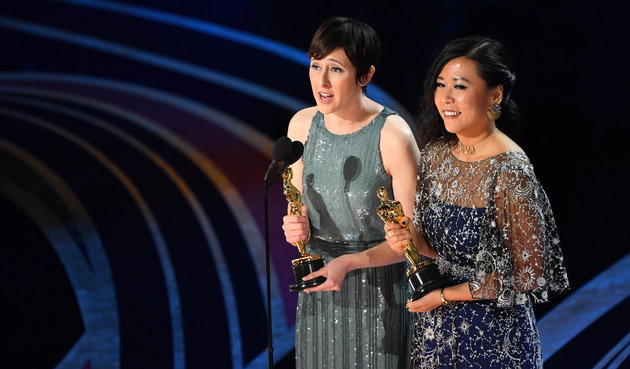 Domee Shi (right) receiving the award (Photo/Dfic)
Feb.26 (NBD) -- The 91th Academy Awards was successfully held at the Dolby Theatre in Logs Angles on Sunday local time and Chinese elements shined bright on the event of this year.
It's noticed the four movies directed by Chinese-blooded moviemakers have been nominated in their respective fields. They are Bao, One Small Step, Minding the Gap and Free Solo.
The Best Animated Short Film of this year Bao was directed by Canadian-Chinese animator Domee Shi whose home land was in south western China's Sichuan Province.
The 8-minute silent Pixar film tells the story of an aging Chinese mom suffering from empty-nest syndrome who gets another chance at motherhood when one of her dumplings springs to life.
Chinese elements, such as Character Fu (fortune), blue and white dishes, rolling pin and Tai Chi can be frequently seen in the film. Domee said the success of the feature film was accredited to Pixar's comprehensive filming philosophy, which encourages directors to tell featured stories to the world.
Bao is billed as an Oscars ode to Chinese mothers and Asian food. Domee said actually she was once a little dumpling in her mother's hands. "I hope everyone can take a dinner with their mum after watching the movie," said Domee Shi to Chengdu Economic Daily.
One Small Step, another film nominated for the Best Animated Short Film, is a 2018 Chinese-American animated short film by Andrew Chesworth & Bobby Pontillas and produced by Taiko Studios.
The first Oscar-nominated Chinese animation tells the story of a young Chinese-American protagonist who dreams of being an astronaut.
Zhang Shaofu, CEO of Taiko Studios, leaves for America at the age of five and once served as an animator at Sony and Disney. In 2017, he returned home and spent 14 months to finish the film through leading a team of eight in Logs Angels and a team of 13 in China's Wuhan.
Zhang Gaoshang, lighting director of the studios, said One Small Step, the first production of the animation studio, was all made by the Wuhan team with the help of Disney resources, which is meaningful to them. The company's Chairman Zhang Hande disclosed that they are making 5-7 blockbusters, and some are movies and some long clips.
Besides, the Oscar-nominated Documentary Feature Minding the Gap, is directed by Liu Bing who moved from China to Alabama to California to Illinois before he was eight. This is the first self-documentary of the 29-year-old director.
The Best Documentary Feature of this year Free Solo is directed by professional rock climber and photographer Jimmy Chin. It is noted that both Jimmy's parents are Chinese. Jimmy said to media that he loves China and would like to film a documentary there, but the time won't be finalized until this weekend.
In addition to Chinese-blooded directors, more Chinese film companies begin to invest in Hollywood.
Back in 2016, China's property and entertainment giant Dalian Wanda acquired Legendary Entertainment for 3.5 billion U.S. dollars, marking the largest M&A in China's entertainment sector.
Alibaba Pictures also invested heavily in Hollywood movies including Teenage Mutant Ninja Turtles, Mission: Impossible - Rogue Nation, and Mission: Impossible - Fallout.
It's worth noting that one of its investments - Green Book - logged five nominees and became the winner of the Best Picture Award this year.
The growing presence of Chinese-blooded directors and increasing investment of Chinese film and entertainment companies reflect China's improving soft strength. But Zhang Min, chairman of Wuhan ACG Association (WHACGA), said compared with Japanese, European and American counterparts, there is still room for improvement in terms of creativity, production and operation.
Email: tanyuhan@nbd.com.cn
Editor: Tan Yuhan