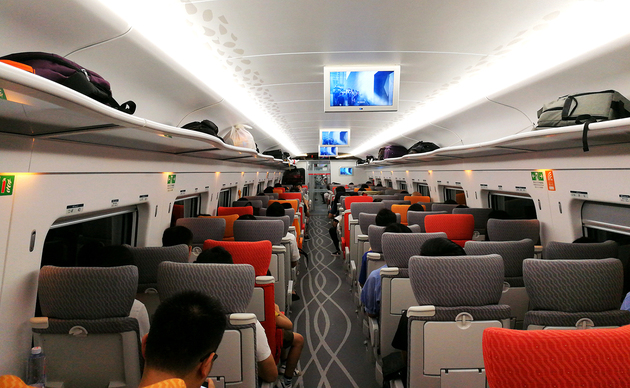 File Photo/Wang Fan (NBD)
In the not too distant future, passengers in China can simply use their smartphones to board buses, subway trains and even railway trains, industry experts said.
Electronic payment operators and the government are working together toward that goal, they said.
In late January, the Guangzhou-Shenzhen railway line in South China's Guangdong province, became the first to adopt digital payments, to improve operational efficiency during the Spring Festival holiday.
The Guangzhou-Shenzhen route has seven stations, and is one of the busiest lines in the Guangdong-Hong Kong-Macao Greater Bay Area.
"I don't need to buy tickets in advance, or worry about forgetting my ID card," Li Chao, a Guangzhou native, told Xinhua News Agency before boarding a train at Guangzhou East Railway Station. "Now taking a train is as convenient as paying at shopping mall checkouts."
Normally, passengers with a valid identity card can buy tickets online or at ticket counters at railway stations. Now, on the Guangzhou-Shenzhen route, they can pay directly using Alipay, a mobile payment app of internet giant Alibaba, and reach the platform by allowing the electronic gates to scan a QR code on their phones.
The verification process is done using Alipay's registration system and facial recognition devices at the gate.
This reduces the overall transaction time from about 20 to 30 minutes to just a few minutes, according to Wang Lihui, who is in charge of the Guangzhou East Railway Station's ticket sales office.
According to a report in Caijing magazine, Guangdong's local railway authority's support facilitated the introduction of the digital tool.
Zhou Weiran, a partner at PwC specializing in technology, media and telecommunications, said there is high chance for such payment methods' introduction across the whole national railway system.
"For one thing, mobile payment methods significantly save passengers' time and make travel more efficient. For another, since the government administers the whole railway transportation system, it's easier for it to develop and roll out a unified payment system on a nationwide basis."
Local bus services and subway train systems in over 120 Chinese cities already accept Alipay app's phone-based payments. Tencent's digital payment service has also covered more than 100 cities where about 60 million people use it.
ApplePay, JDPay, UnionPay and China Telecom Bestpay, a subsidiary of China Telecom Corp, also provide such services.
Wu Chunlan, 27, a human resources professional in Foshan, Guangdong province, said: "When going out, a cellphone is all I need now."
According to a report from consulting firm Deloitte, among 1,000 smart cities worldwide under construction, 500 are in China, compared with 90 in Europe, confirming the country's lead in the trend of equipping cities with advanced technologies.
However, challenges remain in the drive to adopt digital payments across all public transportation systems in the country. One is the high cost of installing related equipment and maintenance, Zhou of PwC said.
"Since these services are provided free of charge to the general public, the government may need to find a way to compensate them, such as, in the form of subsidy," he said.
Besides, for older people, and people in lower-tier cities where smartphone penetration is low, awareness campaigns are needed to popularize the new payment methods, he said.
Wang Pengbo, an analyst with consultancy Analysys, said for mobile payment companies, further negotiation with different government departments is needed to promote their products. The debut in Guangdong railway is a promising sign.
Zhou said mobile payment operators would also like to collect an individual's travel data for other commercial applications, such as personalized products and promotion of certain services.
To mark the unveiling of its payment service on the Guangzhou-Shenzhen railway, Alipay published a travel guide for passengers through websites. The guide recommends exclusive services to its registered members at high-speed railway stations. Passengers now can use Alipay QR codes to enter railway stations, and also use the app to order and pay for meals on the train, enjoying a 50 percent discount.
Consumption and usage data of travelers can be mined for research and development of customized products and services; but any such operations should be under the supervision of the government, to protect passenger privacy, Wang said.
Email: limenglin@nbd.com.cn
Editor: Li Menglin